Wildlife Sightings November 2020
We welcomed the onset of our rainy season and all around us the landscape transformed into beautiful shades of green and the fresh smells of rain hung in the air. The November skies blessed us with an impressive 95mm of rain!

All of us gathered on the deck at camp and watched the first of our summer thunderstorms slowly approach. There really is beauty in watching the flash of lightning and listening to the rumbling sound of thunder.
Lions
Our resident pride keeps growing and we managed to get pictures of them and ten cute playful cubs enjoying the warm morning sunlight.

It had been one of those mornings when you wake up to the sound of lions roaring and you just knew you were going to see them. What a site it was as we watched a big male lion sitting not too far from us without a care in the world. It was as if he was telling us that as the King of the Savannah he had nothing to be scared of, especially not a Toyota Landcruiser full of his biggest fans. Such a show-off!

The big cats also walked through camp at night making quite a racket while they did so.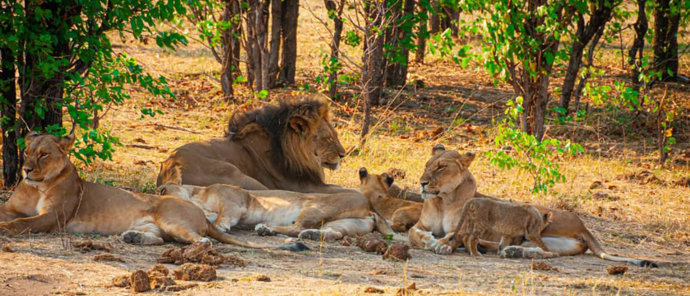 Cheetah
What a way to celebrate a birthday for our guest Louisa when we saw a male cheetah that was very relaxed, playing and rolling on the ground directly in front of us. She said it felt as if we had personally arranged this for her.
Elephants
There is nothing as captivating as watching nine elephant bulls show up in camp after a long absence. A sight that had us all in smiles, with our jaws dropping, was watching one of the bulls attempt to jump a wall to come feed on the grass within the main camp area. We don't see them that often in the rainy season especially not trying to jump walls.

Well that's it for another magnificent month in Deteema.