Sightings May 2017
As we approach our winter, the new season brings in a diverse change to the environment. If it wasn't for the flowing rivers, we would witness desert like conditions.

Rain water levels have receded; inland pools are drying up, which means elephants are on their way back to us – leading to familiar sightings of the resident bull elephants strolling throughout camp.

Lions contact calling throughout the evening in camp, definitely keep some of our guests awake as they experience this phenomenal feat within the African Kingdom. Our resident Machaba female leopard "Mmatsebe" still eludes us with her new young cub, no photographic evidence just yet!

Almost time for afternoon safari, where we have news of a fresh elephant carcass– this means feeding frenzies from all predators and scavenger alike! Followed by a majestic sunset as always.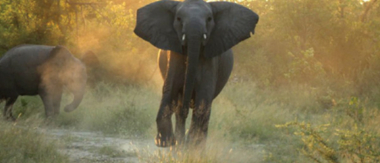 What to expect on Safari
An unknown experience can be both exciting and daunting, we have unpacked some of the practical aspects of going on safari.
What to Expect