Sightings January 2017
2017 is off to an amazing start here at Machaba Camp!

Lions, lions, lions & some more lions – around every corner, across the river, in the tall grass & even perching in a tree. They have been seen mating, wandering, resting & feeding.

Leopard sightings have been very good – despite the thick foliage. We have seen our young leopard successfully hunt, play & feast on ducks & geese. Quite the spectacle to watch, although not ideal for sensitive viewers.

Wild dogs have ended our January month with a big bang. As we were welcoming guests to Machaba Camp, wild dogs chased an impala into the Khwai River in front of camp. They proceeded to kill it in front of room 4 & munch on it as the wild dogs pups ran in to have a share of this feast.

Front row seats for our guests at Machaba Camp!

"Pula!" We have had some amazing rains this month. The Khwai river is rising steadily, the plains are slowly flooding, pans are full of hippos once more & puddles of rainwater have filled up the roads. Water is life indeed! It is amazing to see the area this lush & green. Grasses are tall, shades of green are vibrant & bright red fire lilies dot the landscape.

The large elephant herds have left the area, however we are still seeing the occasional smaller herd or lone bull. They love munching on the green grass.

January, besides a brand new year, also brought with it new life: Guinea fowl chicks, Warthog piglets, & Paradise Flycatcher chicks.

It has been an amazing first month at Machaba Camp & we look forward to February!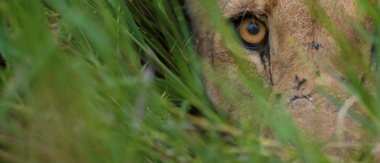 What to expect on Safari
An unknown experience can be both exciting and daunting, we have unpacked some of the practical aspects of going on safari.
What to Expect