Ngoma Safari Lodge Wildlife Stories September 2023
Our days start with gorgeous sunrises reminding us that adventure awaits. Game drives and walking safaris begin earlier and upon our return to the lodge, we enjoy delicious summer lunches and many midday siestas.
Inseparable
We spent some time with a lioness and her two three-month-old cubs. The new mother tried to rest but her tireless cubs had other plans. Licking and jumping on their mother and chasing each other around, there was no chance of rest for this mum.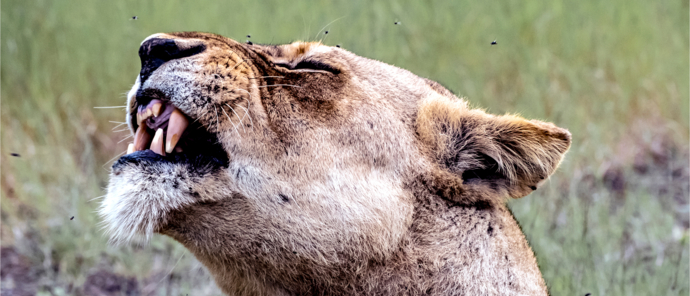 The Hunt
The warning calls of francolins and squirrels were so intense we had to investigate. Scanning the area with our binoculars, we spotted a leopard stalking a herd of unsuspecting impala.

Relying on camouflage, she knelt so close to the ground that we struggled to keep an eye on this expert hunter. Alas, the dependable alarm calls of the birds gave her away and the impala went on to live another day.
The Riverfront
A boat cruise down the Chobe River is not complete without an elephant or two in the mix.

One morning, a cool breeze accompanied the cool drinks and tasty snacks onboard. The cruise started with no sight of the iconic pachyderms. Around lunchtime, three bull elephants emerged from out of the thicket to drink from the banks of the river. Followed by a breeding herd and then various herds.

Counting up to 150 elephants, our guests were delighted that a slow day had turned into an unforgettable sighting.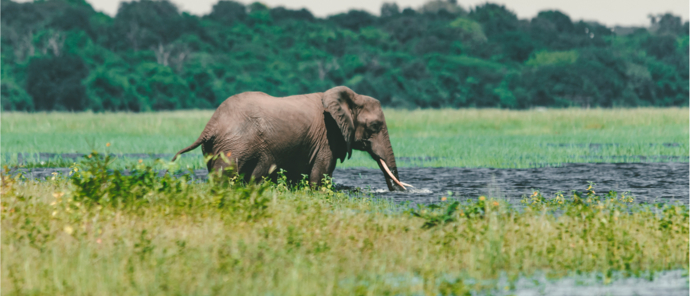 Mma Leino
We often name animals based on their unique appearance.

A solitary lioness called Mma Leino, meaning tooth in the local language of Setswana, gets her name from her broken left lower canine. She was relaxed with our presence, moving under the vehicle for some shade and to take a short nap.

Such exciting wildlife encounters punctuated the hottest month of the year. We are yearning for the summer rains but living for tomorrow where new safari experiences are heralded.

Until next time,
Jo
Ngoma Safari Lodge