Sightings March 2019
What an exciting month it has been!

One of the most remarkable sightings this month has been happening at our hyena den. A male leopard managed to kill a hyena cub this week. Needless to say, the rest of the clan was up in arms. They patrolled the bottom of the tree for days while the leopard remained in the tree munching on the hyena cub. The leopard, however, didn't get away untouched – a few scratches and bruises later, he managed to limp away to safety. A few days later, tracks of a python were found exiting the hyena den. Unfortunately, we suspect one or more cubs sadly didn't survive this encounter.

We haven't had rains the entire month & the grasses are starting to turn a brownish colour… Evenings are becoming cooler & days considerable shorter.
Elephants have been returning to the river & are frequent visitors in camp. Swimming antics have been witnessed several times & plenty of pictures have been shot as memories.

Lions have been witnessed taking down a lechwe & dragging it into the thicker bush.

Wild dogs have been in & out of the area. One unlucky dog met its fate & was seen hanging in a tree. Obviously, it had fallen prey to a leopard.

Plains game has been very good with plenty of activity of snakes and reptiles at the moment.
We look forward to the month of April & hope to welcome you all soon!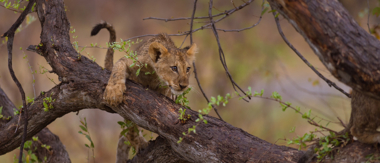 What to expect on Safari
An unknown experience can be both exciting and daunting, we have unpacked some of the practical aspects of going on safari.
What to Expect