Safari tips
Your trip to Africa is an experience you will never forget. And to make the most of your adventure, here are a few tips to prepare you for a journey like no other.
Wake up early
Holiday time is about rest and relaxation, so it might be tempting to sleep in every morning. But in Africa, animals are most active in the mornings and evenings as midday is too hot for them. Try to wake up early to make the most of the day, and avoid missing out on the magic of the early morning. You will be offered coffee on the go as you leave for an early morning game drive. And by the time you return from an evening game drive followed by a scrumptious meals and a refreshing drink, you might be tired but it will be worth it.
Chat with your guide
Always feel free to talk to your guide. Our expertly trained staff are always willing to answer questions and provide further information. In fact, they really enjoy their interactions with guests. And remember that there is no such thing as a silly question. Africa is a unique environment, and there is so much to learn. Your knowledgeable guide is on hand to answer any types of questions about the bush and its inhabitants.
Every game drive is different
Our team makes every effort to plan your stay for maximum enjoyment. But one thing we cannot plan is what you will see on a game drive. Nature moves to her own rhythm and plays by her own rules – which means you never know what you might see each time you venture into the bush. This is why we recommend that you take advantage of every game drive. You could choose to sleep in and miss out on a drive, but that drive just might turn out to be the best experience of your African adventure.
Don't be shy to ask the guide to stop
Many pairs of eyes mean a greater chance of seeing wildlife. So if you think you see something, ask the guide to stop. Even if you are not sure about exactly what you see, it's still worth asking the guide to stop so everyone can take a look. If you doubt yourself, you might miss an opportunity to see something that everyone will enjoy.
No guarantees on what you see
Once again, nature is not bound by our rules. It's not possible to place an order for exactly which animals you want to see. Our guides will do their best to find what everybody wants to see, but even they have no power over the inhabitants of the wild. It's important to manage your expectations before you go, so you do not come back disappointed.
Trust your guide
Our guides have a wealth of knowledge and experience in the field. So even if it feels like you've been driving forever and still seen nothing, trust your guide to know what's best. Your guide communicates with other guides so they can share information about sightings in the area. Trusting your guide also means respecting his or her decisions. Our guides are trained to react to potentially dangerous situations, and they will always put your safety first.
Turn your dreams into plans
Orange-gold sunsets, elephants swimming in the desert, the thrill of a leopard on a hunt. A safari to Africa is more than a holiday; it will change the way you think of the world for life.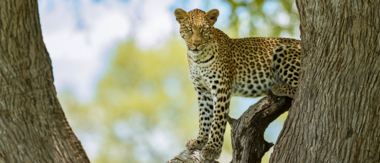 Machaba Safaris Blog
Read our blog for updates from the bush and the latest sightings from our camps.
View Blog