November Sightings 2019
It is November at Ngoma and it's been a month full of wildlife sightings!
African wild dogs

African wild dogs cover a vast area through the entire Chobe National Park and Forest Reserve, and pack of 14 dogs were seen fairly frequently during the first half of the month. They were also spotted at the waterhole in front of the lodge while guests were having breakfast.
Birds

Birds are aplenty and if you love birding, Ngoma is the place to be. Large groups of Yellow-billed kites are very prevalent at the moment and feast on swarms of flying ants and other tasty insects!

A beautiful little family of Ground hornbills are resident in the National Park and can be seen alongside the main road every day. Occasionally, they can be heard close to the bridge near the lodge, booming loudly at each other first thing in the morning.

Flocks of pretty little Blue waxbills frequent the plunge pools at the guest rooms and have been a treat to watch as they bathe.
Chobe bushbuck

Chobe bushbuck surprised us and for the first time anyone can remember, appeared in the grounds of the lodge. A ram moved into the space between Room 3 and the reception area offering guests an up -close encounter.

He was completely relaxed, nibbling away on the newly sprouted leaves and, after his meal, lounging around next to the storeroom watching everyone getting on with their daily chores!
Elephants

Elephants have all but vanished from Ngoma Lodge now that the rains have begun. The sightings have moved to the park and also the river, and our guests have noted that there are many cute baby elephant calves to be seen.
Giraffes

Giraffes are often seen out-and-about and the elegant 'long-necks' are frequent visitors to the waterhole in front of the lodge.
Lions

Lions seem to want to be seen and there have been many sightings of the 'Kings of the Jungle'. Most recently, the guests were enjoying their last game drive in the Chobe when they encountered a magnificent male lion calling just a short distance from the vehicle.

A pair of lionesses are seen often, one has a badly injured paw although thankfully it doesn't seem to cause her too much pain. Two brothers are constantly seen together but separated for a week while one of the big cats spent time away mating, and the other respectfully kept his distance.
Jackals

Jackal pups have delighted guests on early morning game drives, although none witnessed a few adult jackals taking down a newborn impala, they did get to see the ensuing feast.
Leopards

Leopards have been quite cooperative, obliging guests with some lovely encounters. We are proud to say that most of our guests have enjoyed at least one leopard sighting on their stay.
Zebras

Zebras remain very present around Ngoma and make for a very welcome sight most mornings when they drink at the waterhole.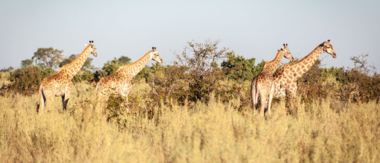 What to expect on Safari
From bird watching to taking an untamed walking safari under the care of a highly trained guide, there is always something to see and do.
What to Expect