Gomoti Wildlife Stories April 2023
Large buffalo herds and a chill in the air has everyone thrilled to be in the bush at this time of year. The thinning bushveld and to-die-for sunsets are still a daily occurrence and we have had an amazing month at Gomoti Plains.
Dive Bombing Drongo
The Fork-tailed Drongo has to be the most notorious bird for displaying aggressive and fearless behaviour when it comes to attacking and chasing off much larger animals.
A Brown Snake Eagle tries to ignore the persistent little black bird as it relentlessly threatens and dive-bombs the eagle.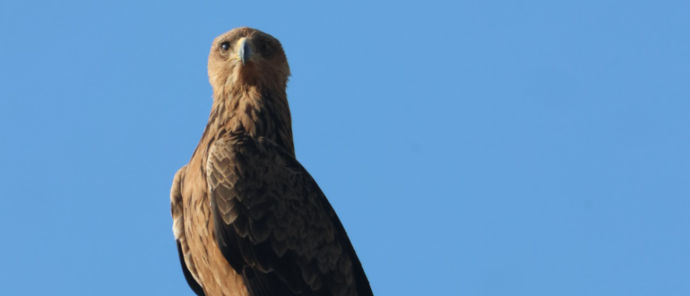 The Lawnmowers Have Arrived
Affectionately known as the lawnmowers of the bush, the buffaloes have arrived in their masses. Herds of between 200 and 500 have been seen around Gomoti Plains recently and as they move through the savanna chewing away the tall grass, they are starting to expose all that hides beneath the golden strands.
Making it easier to spot the bigger cats, we have been noticing the hungry lions following the herds watching out for easy targets in the old, the young and the weak.
Soon-To-Be Mother
A pack of wild dogs has another few pups on the way!

The alpha female is heavily pregnant and by the size of her belly, we think she will welcome them into the world very soon.
Lots of Lions!
Survivor's family is growing strong! The 12 lion cubs are growing up so quickly and Survivor is proving to be an amazing dad! Often looking after and playing with the smallest five cubs, Survivor has a lot to teach them still.

Until next time,
Ponche
Gomoti Plains