Wildlife Sightings October 2020
Average Temperatures: 35ËšC - 40ËšC

The sky above the Okavango Delta was unbelievably clear for this time of year, and rain clouds only started building up towards the end of the month. We have noted an increase in the daylight hours of roughly 30-minutes.
Lions
Our camp pride killed a full-grown giraffe! All ten of the big cats involved were spotted first thing in the morning while we were out on our early morning drive. The two mothers and their eight cubs were stuffed so full they could barely move. They like to eat as much as possible before the males, commonly known as the "Golden Boys", arrive on the scene.

Later in the afternoon some of the pride were spotted drinking at the river not too far from the kill. After cooling off in the mud, they returned to their kill, and our guides and guests followed.

The eight cubs never stopped feeding once, so we stayed with the pride, until sunset when it was cooler, and the lionesses joined them. Our guests were blown away.

After dinner, we heard the "Golden Boys" calling and we knew they were moving towards the kill. The guides and the guests jumped into the vehicles and followed the call. When the males arrived at the kill, the lionesses did not want to give it up easily and there was a massive fight! The lionesses and their cubs eventually gave up their half-eaten kill and by the following morning, there was nothing left of the massive male giraffe.

The northern pride was also spotted on zebra kill a week later. This pride that also consists of two lionesses and eight cubs, was joined by a very mysterious cub that is a few months older than their own. The young male seems very comfortable with his newly found family.

The southern pride was also seen feasting on a young buffalo kill. The two mothers and their five young cubs were first spotted by our helicopter pilot while he was flying three sisters who stayed with us in October. Late that afternoon the guides in camp headed for the sighting which was in an open area close to the riverbank providing an incredible photo opportunity for our guests.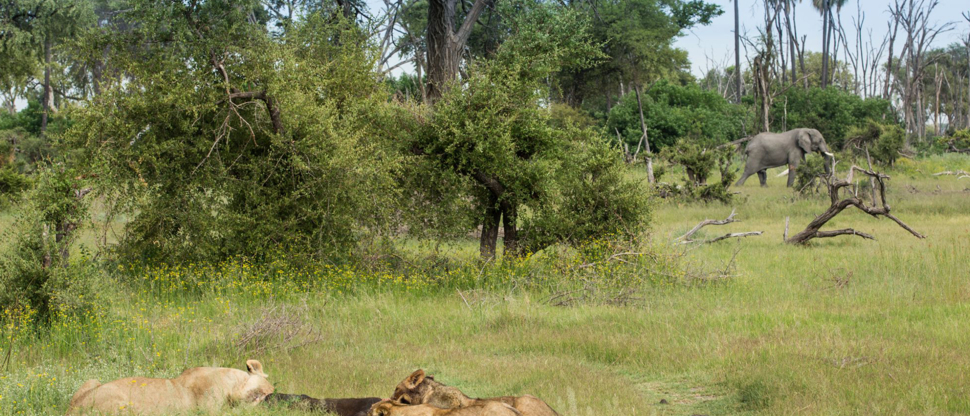 Leopard
Our resident male leopard was also spotted. He has proved to be an incredible hunter and one morning towards the end of the month our guide, Mott, discovered him with THREE impala kills. Two of the kills were safely tucked away in separate trees while he was busy feeding. Talk about having a big appetite!
Cheetah
A female cheetah with three very cubs has been seen regularly. The cheetah was first spotted by our guide Carl while guiding a couple celebrating their anniversary. This made their stay very special.

On the last day of the month, our guide Mott, spotted the cheetah and her cubs again while guiding a family with two young kids. The father called the sighting very special and we feel so happy we could help create these special memories for this lovely family.
Harmony in Nature
A diversity of different species congregated together on the floodplain, making even a normal game drive a great experience. Buffalo, elephants, zebras and even one rhino have on two occasions been seen grazing together. The lone male rhino was often seen when we were out on our afternoon game drive and seems to enjoy the company of a large herd of buffalo.

A pack of five wild dogs were seen chasing a herd of impala very close to camp, and our guide Mitre spotted a new pack of 11 dogs while guiding local guests. The couple who have been living in Botswana for many years and have been on many safaris, said this was the BEST game drive they had ever been on!

What a lovely month October was and we can't wait to report back to you all soon.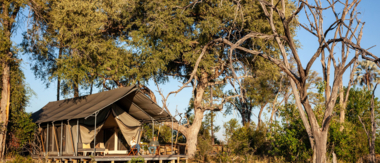 Gomoti Plains Camp
Framed by towering palm trees, our iconic canvas tents provide eco-luxurious comfort in an area that is alive with superb land and water-based game-viewing opportunities.
See Gallery