Sightings December 2018
The grass always seems greener on the other side, and this month was no different. Lions have been crossing the channels back & forth in search of food. The prey have been doing the same. Let the game of hide & seek continue!

As for our leopards – they have been doing very well – sightings have been regular & they have been feeding well on the little impalas. Sad news however as one of our resident leopardesses (Blue Eyes) seems to have come in contact with a lion & as a result of this fight she broke her back foot/leg. We are all hopeful that she will overcome this, however fear the worst.

Wild dogs have been seen sporadically. We have been able to follow them while hunting, which is always a great adventure for our guests.
Elephants are still around in large numbers & dot the riverine landscape in & around camp. There have been standoffs witnessed between elephants and lions, elephants and hippo & even some elephants chased impalas away from the water.

Hippo fights have resulted in the death of this particular one – he was feasted upon by countless vultures and hyenas. Africa at its best no doubt!

The rains have finally started over the last couple of days. This has brought out flying ants by the thousands, insects & reptiles.

Summer is finally here! Happy 2019!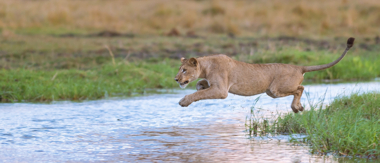 What to expect on Safari
An unknown experience can be both exciting and daunting, we have unpacked some of the practical aspects of going on safari.
What to Expect