Ngoma Safari Lodge Wildlife Sightings April 2023
We experienced some strange weather patterns this past April. The rains stopped earlier than usual and the temperatures have remained quite high. The Chobe floodplain is still filling up from the summer rainfall giving us an almost endless oasis in front of the lodge. The floodplain in front of Ngoma is filled with water from the Chobe and Zambezi River.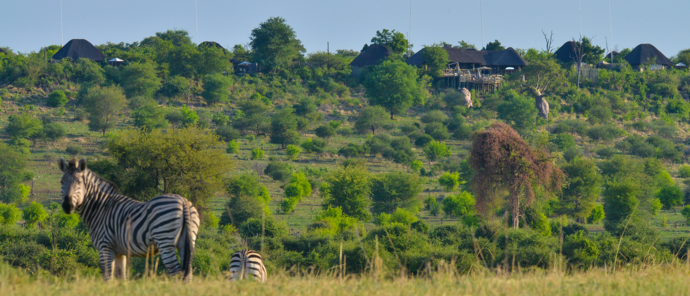 A Missed Opportunity
While on our afternoon drive making our way alongside the Chobe River, a big herd of impala were spotted heading towards the bank of the river for a drink. Unbeknownst to the herd, a pride of lions was lazing sleepily under nearby trees.

We watched in anticipation for the lions to seize the chance of an easy meal. However, the male lion was much too comfortable to move and the slow reaction time meant the impala were able to have their drink and move off safely.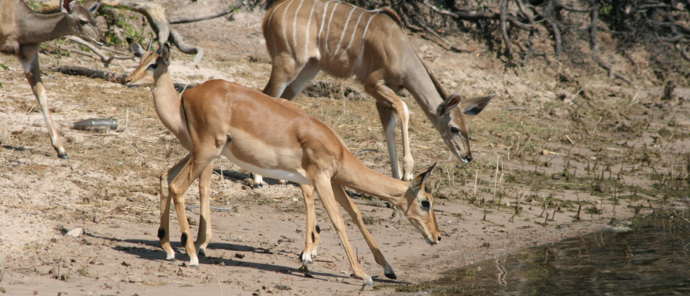 A Daring Border Crossing
We watched in awe as an incredible herd of buffalo, 3,000 strong, swam across the Chobe River towards an island on the Namibian border called Sedudu. The sight of that many buffalo splashing and groaning as they crossed the treacherous waters was thrilling, and something we don't see very often.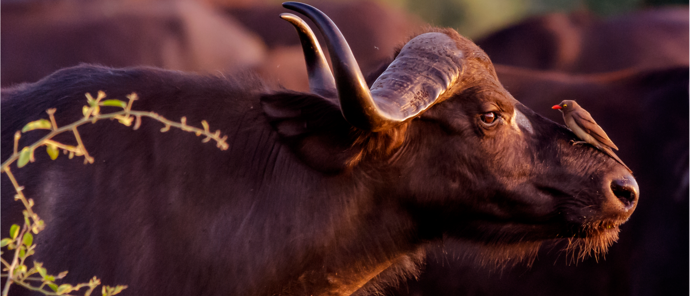 A Gruesome Game
After an exciting afternoon game drive, we were headed back to the lodge along the Chobe riverbank when we stumbled across a large herd of impalas looking very distressed.

We stopped and waited when we noticed a pride of lions that all looked quite pleased with themselves. In a nearby bush, two lions were enjoying the last few bites of their impala kill while two young cubs fought over the head of the impala. Needless to say, this was an unforgettable experience.
A Small Yet Fascinating Encounter
While out tracking and searching for an elusive leopard we decided to switch off the game viewer engine to listen for any sounds. Instead what we heard was a rustling of leaves in the road.

Suddenly, out popped a dung beetle driving his ball of dung down the road. The guests were enamoured with this small creature just minding his own business. We stayed and watched him roll that ball for some time before continuing our search for the leopard.
A Close Encounter
During the night we had heard the roars of lions in the area and spent the evening discussing the perfect time to wake up and go in search of the pride. So at 6am we jumped in the game viewer and headed out of the lodge area.

As we were making our way past the suites we heard a noise from the bush. We stopped abruptly and switched off the engine and were thrilled to see four lions. They walked right next to the vehicle giving our guest a thrilling close encounter with one of Africa's top predators.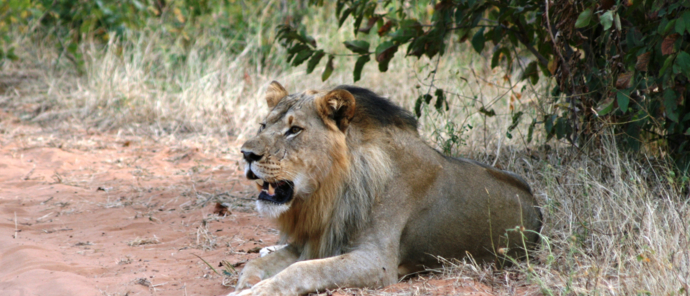 April was an amazing month full of once-in-a-lifetime wildlife encounters. We danced and sang around the boma fire creating unforgettable memories with our guests. We look forward to the coming months at Ngoma Safari Lodge!

Until next time,
Nelson
Ngoma Safari Lodge