Kiri Wildlife Stories April 2023
As a fresh cool breeze awakens our senses every morning, we are noticing more and more wildlife activity in these cooler mornings, making for an exciting start to each day in the African bush.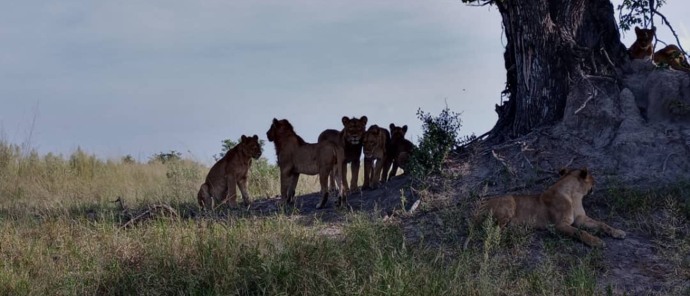 A Fleeting Affair
The unexpected nature of a safari makes each day special and unique.

It is rutting season for the impalas, and the dominant males are showing each other who's boss. The social dynamics are fascinating to watch as the male keeps his harem excited and keeps younger challengers at bay. We spent some time with a herd of impalas, watching their behaviour, when suddenly a pair of wild dogs sprinted past so quickly we almost missed them.

The dogs ran in the direction of the impala and then disappeared into the lush vegetation. A thrilling albeit fleeting sighting.
On the Hunt
Shoulder blades as sharp as knives stuck out of the tall grass as a pride of lions stalked a herd of zebra.

We arrived on the scene just as the lions were about to make chase. Alas, the lions could not outsmart the dazzle this time, so we returned to camp.
Family Tree
It's as if something in the water makes our guide's eyes as sharp as an eagle's. From a great distance, our guides at Kiri Camp spotted an unknown male leopard in a sausage tree.

Upon closer inspection, we found three leopards in the tree. The big male who had caught our attention was accompanied by an apprehensive female and her cub.

Once the male moved off, we stayed and watched as the mother and cub exhibited playful behaviour. A special moment indeed.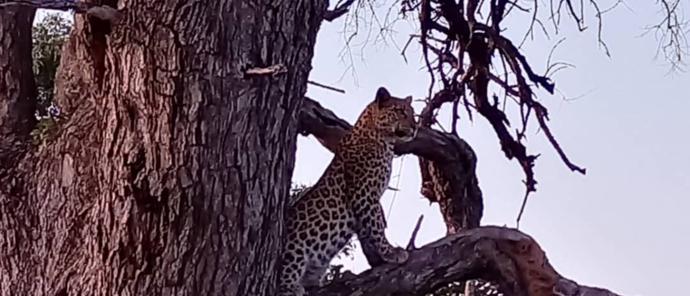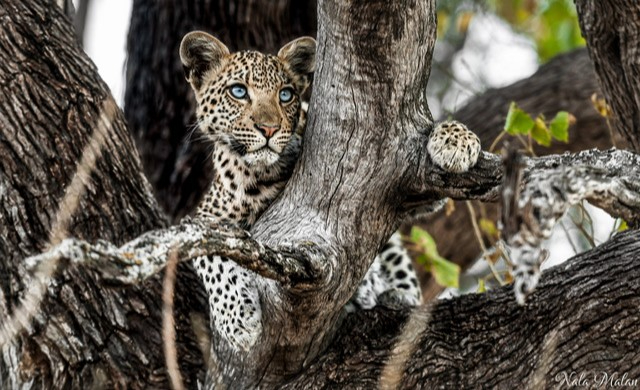 Bumble Turned Chase
Now and then, when camp is quiet, our guides and staff head out on a drive through the bush.

Wild dogs are seldom alone, so finding one must mean the pack is nearby. Within a few minutes, a handful of dogs poured from the brush into the road ahead of the game viewer. 17 Dogs in total! We spent the next hour following the pack and watching them hunting a herd of impala.

This pack has had to increase their portion sizes as the young pups are now eating as much as the adults. Exciting times are ahead for this pack and we will be watching keenly.

Frequent sightings and the anticipation of the floodwaters made for an exciting month at Kiri Camp. Stay tuned for next month's wildlife sightings!

Until next time,
Wesley
Kiri Camp