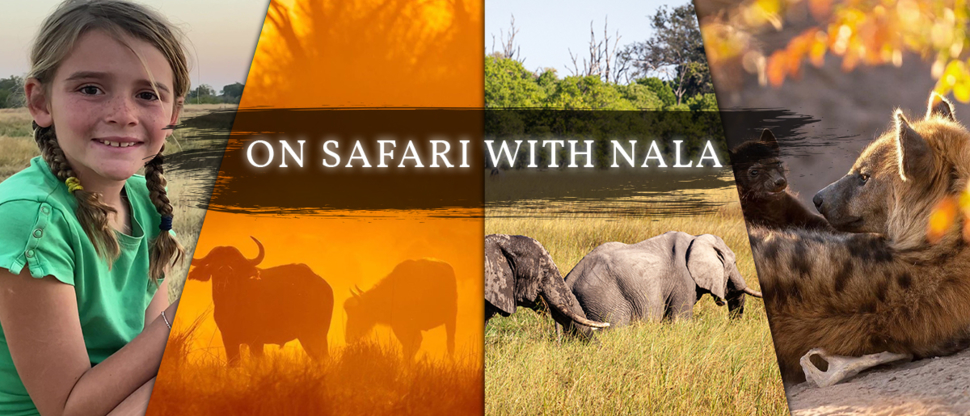 Welcome to "On Safari with Nala"
"On Safari with Nala" is presented by nine-year-old Nala from Machaba Camp. She has an extraordinary love for nature, wildlife, and conservation. Not at all surprising since her parents, Shaun and Elcke Malan, are general managers at Machaba Camp where she and her little brother Khan have lived for the past seven years.

Each week she takes our viewers on an exciting African adventure. Topics include everything from exploring the Okavango Delta in a mokoro and informative wildlife episodes, to Machaba's legendary chef Sox being dragged into an episode or two to share some delicious recipes.

Watch Nala's latest adventure and catch up on previous episodes below.
Episode 48: World Elephant Day
Episode 47: The Eastern Tiger Snake
Episode 46: Nala And Khan Making Their Favourite Breakfast!
Episode 45: The Praying Mantis
Episode 44: Welcome To Ngoma Safari Lodge
Episode 43: How To Bake Scones
Episode 42: The Cricket
Episode 41: The Termite
Episode 40: Scrumptious Butternut Quiche Recipe
Episode 39: The Dead Giraffe
Episode 38: The Pan Handle of the Okavango Delta
Episode 37: The Mozambique Spitting Cobra
Episode 36: The Centipede
Episode 35: The Bubbling Kassina
Episode 34: How To Make A Christmas Yule Log
Episode 33: The Wolf Snake
Episode 32: The Shongololo
Episode 31: The Warthog
Episode 30: The Blind Snake
Episode 29: How To Make Banana Loaf
Episode 28: The Lion
Episode 27: The African Migratory Locust
Episode 26: The Banded Mongoose
Episode 25: The Gomoti Kitchen - How To Make Pizza From Scratch
Episode 24: The Wattled Crane
Episode 23: Woven Baskets
Episode 22: The Tree Squirrel
Episode 21: Grey Foam-Nest Tree Frog
Episode 20: Scorpions
Episode 19: Elephant Dung Uses
Episode 18: The Machaba Kitchen - Bran Rusk Recipe
Episode 17: The Malalane Golden Brown Baboon Spider
Episode 16: A special kind of Giraffe
Episode 15: The Cape Buffalo
Episode 14: Hippopotamus
Episode 13: The Okavango Delta
Episode 12: The Puff Adder
Episode 11: Into the Machaba kitchen
Episode 10: The Okavango Hinge Terrapin
Episode 9: The Mokoro Experience
Episode 8: The African Bullfrog
Episode 7: A different kind of Elephant
Episode 6: The Yellow Bellied Sand Snake
Episode 5: The Leopard Tortoise
Episode 4: Into The Machaba Kitchen
Episode 3: Vultures
Episode 2: The Flap Necked Chameleon
Episode 1: The Spotted Hyena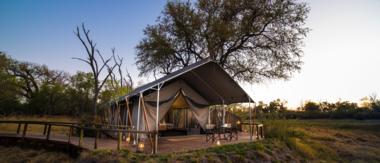 Discover Machaba Camp
Machaba Camp is a traditional style camp nestling in the game-rich Khwai area. The Khwai Concession is a 35 000 hectare reserve located in the northeastern section of the world-famous Okavango Delta.
Read More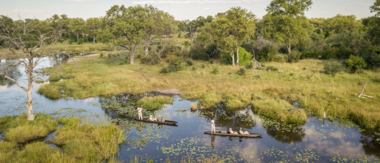 Explore The Okavango Delta
A tapestry of seasonal waterways, the Okavango Delta is home to more than 2 000 plant, 530 bird, 65 fish species, and a large variety of mammal species.
Read More