Deteema Springs Camp Wildlife Sightings October 2023
The extended, continuous trilling sounds that persist for hours from mid-morning into the afternoon, accompanied by Mopane bees buzzing around one's sweaty face, are a clear indicator of soaring temperatures.

Early mornings offer a refreshing coolness, and the sunrise from the tents is a breathtaking spectacle, casting a vibrant orange-to-red hue against the backdrop of tall, arid Mopane trees.

As the day unfolds, the heat intensifies rapidly, reaching temperatures between 35 and 40 degrees by mid-morning. Late afternoons never fail to amaze as the majestic elephants leisurely make their way to the dam for a drink, coinciding with the drop in temperatures.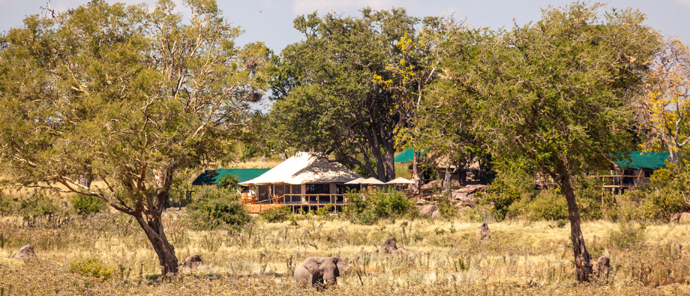 A Bush Surprise
During a tranquil morning safari, our initial goal was to track down cheetahs near the salt pan, but as often happens in the unpredictable bush, nature had different intentions. As we neared the salt pan, sharp-eyed guests suddenly noticed vultures gracefully circling above.

In an instant, our plans shifted, and we decided to follow the vultures, which eventually guided us to the Dolilo lion pride. They had just successfully hunted a male kudu. Over the course of the next hour, we marvelled at the pride's feeding dynamics, repeatedly adjusting our position for a truly immersive experience.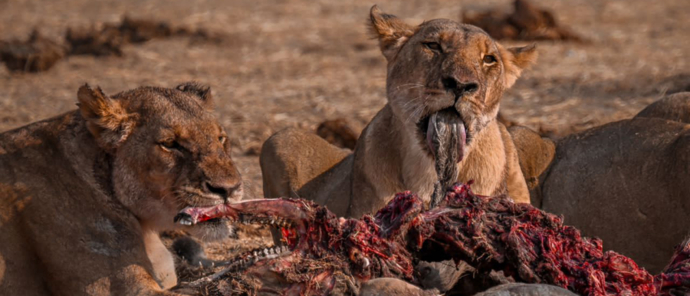 A New Life
During our afternoon stroll with guests to explore the fascinating Deteema ruins, we ventured along the well-trodden paths of elephants, which eventually led us to a serene dam.

However, on this particular day, luck took an unexpected turn, as we encountered an elephant cow along our route. Unbeknownst to us, she had just given birth. The calf was still partially encased in the placental sac, with the umbilical cord connecting them. This remarkable encounter marked a first-time experience for all of us.
Cheetah Kill
After a beautiful sighting of a magnificent male lion with a gingerish to black mane, we proceeded on a leisurely drive. We observed zebras and impalas foraging, seemingly undisturbed by any impending danger. However, while en route to the coffee stop, Mak's voice came over the radio with the exciting news that the cheetahs were in pursuit! We quickly made a U-turn and raced to witness the cheetahs in action. To our amazement, they had already successfully taken down a reedbuck.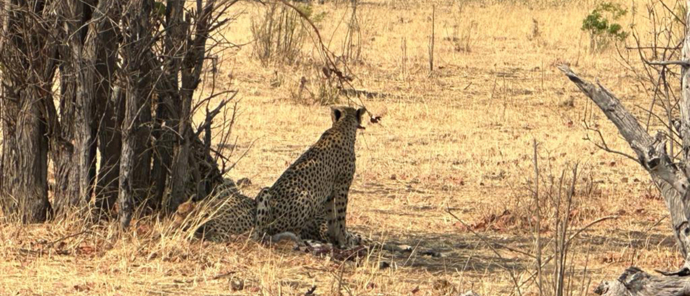 Lions On Foot
We set out on foot from camp with our guests with the aim of doing elephant anatomy at the old elephant bone site. As we walked along, our ears caught the distant echoes of squabbling lions. We carefully continued towards the sounds. It wasn't long before we spotted lionesses. We watched them from a safe distance as they walked towards the waterhole.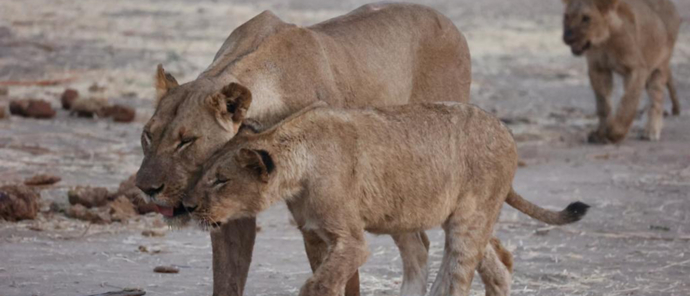 A Big Meal
On a scorching midday, we were fortunate to witness the majestic sight of enormous elephant bulls congregating at the Deteema Dam. They took turns splashing mud onto their massive bodies. Among them, we observed one bull that didn't look very healthy.

During our sundowners we witnessed vultures soaring above. The following morning, our curiosity led us into the wooded area behind Deteema Dam, where we spotted Deteema's lion pride who had gathered to feast on a deceased elephant. The scene was captivating, with 22 lions including the adorable cubs feasting on the elephant.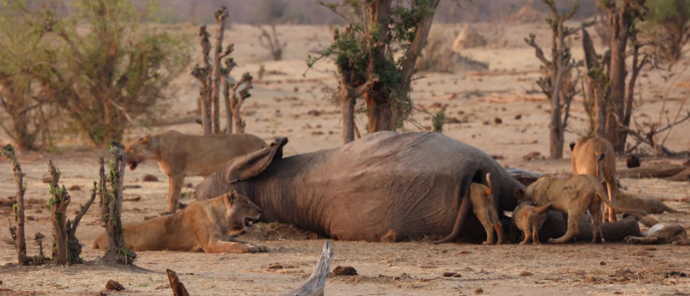 These summer weather patterns are having a huge effect on the wildlife and creating incredible encounters and unforgettable memories on safari at Deteema.

Until next time,
Ntandoe
Deteema Springs Camp