Machaba Camp Wildlife Stories July 2023
We didn't have to leave camp to have amazing wildlife sightings this month, but when we did, the sightings were extraordinary! With winter coming to an end, we are starting to feel the nights getting warmer and the days are filled with wildlife activity.
The Laughter Grows
We have been monitoring the hyenas in the area recently as we have noticed that more than one is pregnant. Driving by a known hyena den in the area, we were delighted to find that the female has given birth to a couple of pups and to our amazement, the next day, a different clan was seen with four little ones.

A female hyena will care for her pup for the next 14 months until the sub-adult is ready to go off on its own. We can't wait to watch these pups grow to be as formidable as their adult counterparts.
A Game of Cat and Mouse
Every now and then, tables turn in the African bush and we see something unexpected. It seemed the squirrels were playing a game of cat and mouse with a leopard and a pair of wild dogs this month.

They seemed to tease the predators using themselves as bait. These games kept us all quite entertained.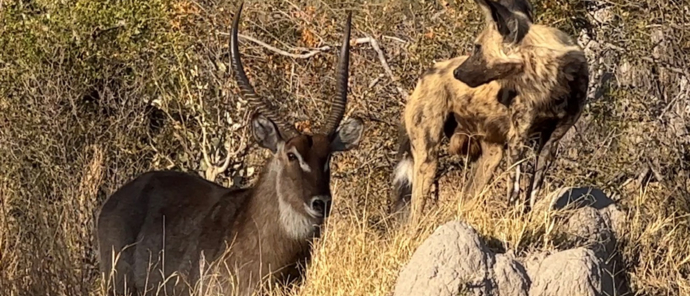 A Stolen Prize
Coming back to camp from a game drive, we spotted a couple of wild dogs chasing an impala, so we stopped to watch the chase unfold. After a few minutes, the impala ram got away and the wild dogs slunked away with their tails in between their legs.

It wasn't a bad day for all the predators, as we later found a leopard with an impala kill. After a few minutes with the majestic leopard, she was chased away by two wild dogs. We assume these two had been the ones from before and they were happy to finally get a piece of that impala! The leopard had been chased up a tree and remained there as the wild dogs ate her prize below.

Watching a herd of massive buffalo crossing the Khwai River into the Moremi Nature Reserve at sunset was the cherry on top of another wonderful month at Machaba Camp.

Until next time,
Oddy
Machaba Camp