Sightings October 2017
This month was a very hot month – both in temperature and sightings!

As the waterholes and pans inland from the floodplains start to dry up we are seeing higher and higher concentrations of wildlife closer and closer to camp.

Let's start with the so-called "big five"

We had, and continue to have, elephant in camp every day, our guests have been able to view them up close and personal on foot and even from the comfort of their beds!

Lion – we are still seeing them almost daily and you are guaranteed to hear them roaring every morning close to camp – the most exciting lion sighting this month involved another of the big 5 – buffalo – the game viewers spent 2 hours watching 3 lioness and the area's dominant lion stalking a herd of almost 100 buffalo and the buffalo reacting by charging the lions and even forcing a lioness up a tree! Despite one lioness managing to get onto a big male buffalo's back the hunt was unsuccessful!

Buffalo are very prolific at the moment with herds ranging from 40-70 right up to over 1,000 being regularly sighted. One of our boat cruises witnessed a very large herd stampeding over the floodplains adjacent to the Gomoti River – the noise and spray was incredible. We even had a large herd make a "guest appearance" at this week's bush braai – much to the consternation of the staff and the delight of the guests!

Leopards – our leopard sightings remain highlights but unfortunately they do not feature too regularly on our game drive menu – this said, a very relaxed female was found north of the camp on one drive. She was completely oblivious of the vehicle and the guests and guide followed her stroll across the plain at dusk and watched her have her evening drink with their own gin and tonics in hand. The female leopard with 2 cubs, whose territory is close to camp, has been seen fleetingly on a number of occasions but the burden of motherhood seems to be keeping her out of the limelight (and spotlight!)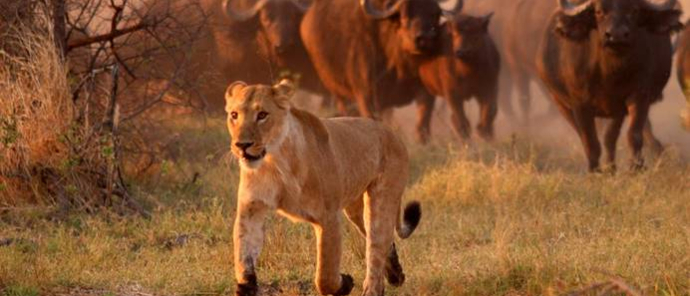 We are only left now with rhino – in Botswana?? YES. Almost every guest this month has witnessed the incredible sight of wild, free ranging white rhino in our private concession! We have even has sightings from mokoro and from the comfort of the tents. It is an incredible experience to see these once almost extinct (in Northern Botswana) giants settling in very nicely after an ambitious relocation project by Rhino Conservation Botswana.
What about the rest of the animal kingdom? – well, the newly named "Plains" pack of wild dog have managed to ensure that 5 of their initial 9 pups have survived so far and after a 6 week hiatus we are seeing them regularly again – with two successive evening drives witnessing them on impala kills.
Our giraffe population just keeps on getting larger and larger with one drinking from the river in front of camp very early one morning this week for the first time! As water becomes more scarce large herds of wildebeest and zebra are being spotted. Most of the impalas are carrying young, awaiting the first rains to drop their spindly legged offspring and sightings of the very rare Roan antelope are also becoming more regular. Lastly our resident herd of kudu remain in camp most nights and are a delight to see both staff and guests alike.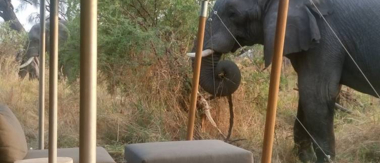 What to expect on Safari
An unknown experience can be both exciting and daunting, we have unpacked some of the practical aspects of going on safari.
What to Expect