Sightings April 2017

Game drives begin from camp, as we have two females and 3 cubs that have been repeatedly hosting themselves up a tree on the other side of the river opposite the main, where they get to see what's on the go for high tea in Camp.

A huge portion of the Khwai Concession is under water, which can lead to a unique perspective on the game viewing front, as certain animals thrive within these flooded plains – birds nestling amongst the dense reeds, where there is prey there is certainly a predator in the midst too.

Modes of transport within the delta have gone back to their traditional routes, as this basic means of transport can often get you to the places that no vehicle can, with minimal fuss.

News is that Mmatsebe our resident leopard has a new born! Hopefully once the little one is a bit more settled, we can get a few pictures!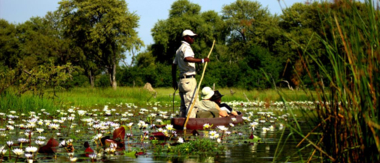 What to expect on Safari
An unknown experience can be both exciting and daunting, we have unpacked some of the practical aspects of going on safari.
What to Expect