Wildlife Stories Kiri Camp July 2022
Discovery and exploration have been at the forefront of our minds after Kiri Camp opened in June this year. We have been treated to many amazing sightings and can't wait for what's to come. Take a look at what the first couple of months brought us.
Taking Up Residency
A female leopard has been seen often around Kiri Camp in the last few months and we are starting to get to know her quite well. The leopard and her cub were spotted in a tree on a recent game drive with a fresh impala kill. The curious and playful cub learning to hunt and the importance of hoisting your kill up a tree to avoid scavengers stealing the well-deserved meal.
An Unfair Fight
The African bushveld is a ruthless place where predators rarely 'pick on someone their own size'. We found a pack of wild dogs chasing down an impala ram close to camp. The unfailing and meticulous hunting strategy of wild dogs is impressive to watch. More impressive is when the prey manages to evade the attack. It was a close call for the impala ram, that made it safely out of harm's way this time…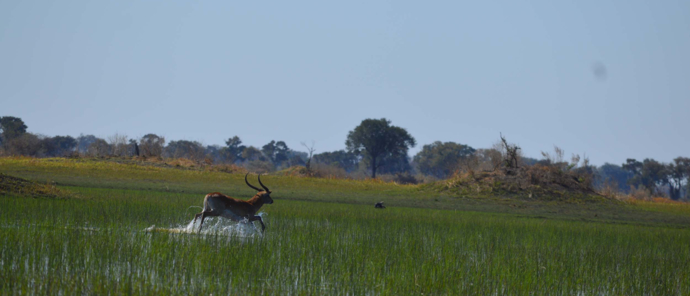 Buffaloes vs Lions
An afternoon game drive was coming to an end and as one of our professional guides, Mike, and his guests returned to camp, three lions were spotted stalking a large herd of buffalo. A dominant male and two female lions stalked through the thicket and in an instant, they had taken down one of the immense beasts!
Cheetah Spotted
We have had some amazing cheetah sightings. One of which we watched two cheetahs watching their prey, considering their option and on another occasion, newly arrived guests just off their flight were treated to a sighting of two cheetahs relaxing in the shade of a tree nearby.
The impressive sightings at Kiri Camp in the first two months of opening have set the bar high. We cannot wait to see what's in store for our newest camp in the Okavango Delta.

Until next time,

Christian and Mike
Guides at Kiri Camp