Sightings February 2018
The delayed rains have arrived, rivers are swelling, and the vegetation is dense. This is a birders paradise at the moment within the Khwai concession.

Thankfully the bigger game has stuck around too. There have been good sightings of elephant breeding herds within the area, which comes as a surprise as these breeding herds would usually be doing their mini migration during the wetter months of the year, which takes them further inland towards the Makgadikgadi Pans.

Within the ever growing surrounding vegetation, one needs to keep their wits about them as this is a predators' perfect hunting ground. Lions are heard calling almost every night, which brings an air of excitement for the following morning safari, as our guides anticipate the movements of the lions to track them down.

Leopards are making the most of their ever green environment, fitting into the camouflage perfectly and will only be seen when they want to show themselves, which of late has been with fresh kills under the some dense brush.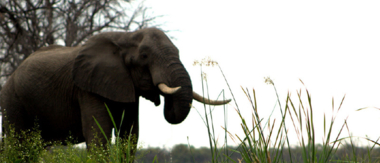 What to expect on Safari
An unknown experience can be both exciting and daunting, we have unpacked some of the practical aspects of going on safari.
What to Expect