Kiri Camp Wildlife Sightings November 2022
It was another hot November in the Okavango, keeping with its reputation as the hottest month of the year. However, this hot month was also accompanied by over 30mm of rain, leaving the bush looking lush and green.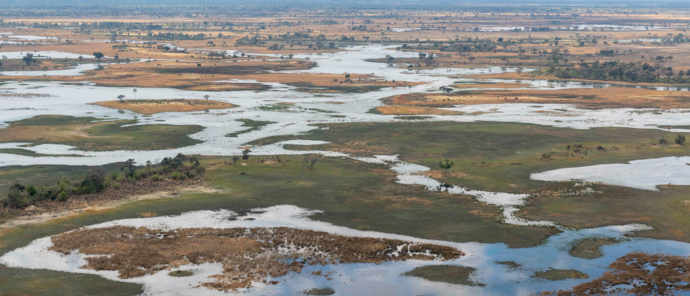 Cheetah Sisters
One of the advantages of the low water levels is the floodplains become large expansive flats, perfectly suited to enable cheetahs to hit their top speeds when hunting prey. We were thrilled to watch the two cheetah sisters in action as they chased down an impala. On the flat floodplain surface, the impala didn't stand a chance.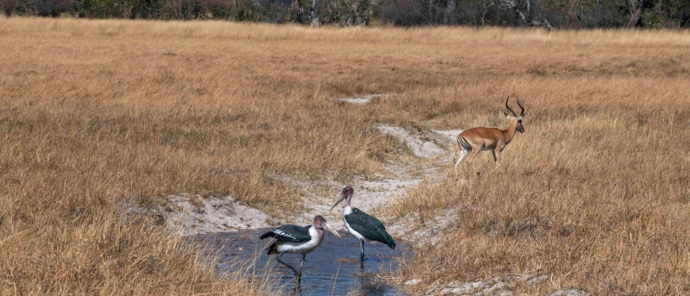 Dark Mane
Our dominant male lion that is resident in the Kiri area has a very unusual appearance. This male struts his stuff sporting a beautifully dark and thick black mane. It is no wonder he has been such a successful male, the lionesses love this unusual look.
The Ground That Thunders
While out on a game drive we came across a huge dust storm, not knowing what it could be, we drove towards it and to our amazement we discovered a massive 2000-strong stampeding buffalo herd.

The stampede was caused by lions chasing them. A herd like this becomes so large as it welcomes both old and young. The old cows are still protected in the group however the older bulls, known as "dagga boys" leave to avoid confrontations from the pesky younger bulls.
A Delightful Surprise!
We were thrilled to stumble across the sight of two male lions and two female lions as they lazed about in the shade with four adorable six-week old cubs. It was so beautiful to be blessed with this sighting.
The cubs were very vocal as they attempted to rouse their sleeping parents. The males were lying around like male lions do, while the lionesses were restless to get cubs to a safe location so they could go hunt in the night.
Stripes in the grass
Driving through the area one day we came across a beautiful sight of 200 zebras grazing in an open grassland area. The contrast of the vibrant black and white stripes against the light-brown grass background created a very striking sight!
With such amazing weather, and even better wildlife sightings this month, we have felt very lucky. The abundance of wildlife around Kiri remains spectacular and we cannot wait to see what happens next.

Until next time.
Ponche
Kiri Camp Guide