Machaba Camp Wildlife Sightings January 2023
Every day as the sun makes its descent to the horizon, the African sky begins its evening performance. Painting the sky with mesmerising colours, every afternoon in Africa brings with it a sense of new beginnings and a longing for another day in paradise. Little rain in the Okavango has resulted in some breathtaking sunsets recently at Machaba Camp.
A Feast for the King
A male lion was spotted feeding on a young buffalo near the camp and just when we thought how special a sighting like that was, we came across another pride enjoying its meal. It was a bad day for the buffaloes, as three lionesses with cubs and one dominant male lion were seen on another kill.

Lions adopt a hierarchy when it comes to feeding. The male lions will always feed first, the females will take their turn next and the cubs will be given the scraps.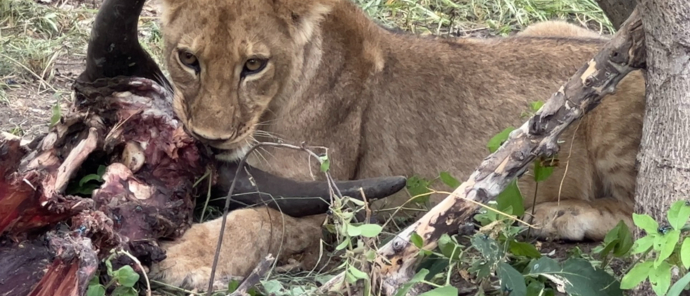 Unscathed
A pack of four wild dogs, made up of one female and three males, have been spotted in the concession a couple of times since October. On this occasion, the pack was employing their efficient and dynamic hunting skills to take down an impala. So often in the wild, we see wildlife working together by tipping off threats. One alert call and the impala were made aware of the dogs and managed to escape unscathed.
Banded Together
Our resident banded mongooses have welcomed a little pup! Living in packs, banded mongooses have been known to nurse collectively and females will often produce offspring at the same time. We noticed just one pup in this small litter, although a single female can give birth to up to 5 pups per litter.
Wedding Bells!
A beautiful couple who celebrated their wedding in the throws of the worldwide lockdown chose to renew their vows with us. We treated our guests to a delicious picnic lunch and blessing at Machaba Camp! We were honoured to have helped our guests to make a precious memory and hope for many loving years to come.

With a vow renewal and a little pup joining the ranks of our resident mongoose pack, this month was a reminder of the invigorating and hopeful spirit of Africa!
Until next time,
MJ
Guide