Sightings November 2019
November gave extraordinary wildlife encounters to all our guests in Gomoti Plains Camp. It is not secret that we have not received any rain over the last months, until a week ago. These recent rains at Gomoti have begun to magically green the surrounding dry flood plains. With the welcome rains finally lashing the ground outside Camp vibrant colours appeared, but also optimal food for grazers.

Grasses form the basis of most ecological processes in the Okavango Delta. Grass, as well as water, forms one of the most vital roles in the food chain. Grazers need grasses to survive, but grasses have evolved along with grazers, on whom they, in their turn, are dependent.

Large diversity of herbivores, which are primary consumers, have been in the radar screen of our enthusiastic guests. Buffalos, Kudus, Zebras, Rhinos, Tsessebes, Reedbucks, Hippopotamus and Wildebeest have evolved to survive on their preferred fodder grass species and to thrive in our hot, dry climate since ancient times.

Up as the first rains appeared, high quality food became available, improving the grazers conditions. Pregnant Impalas, known as the synchronous breeders, started to drop their lambs with the abundance of fresh green shoots and surplus of good forage.

Many of our guests were extremely fortunate in seeing all the 'big five' on a single safari! The accomplishment included several adult Rhinos with a calf. Leopards were sought and found during Game Drives and in Camp as the sun set. A brother and sister were seen fighting over an Impala carcass close to 'Mapororo' pond. We believe that these siblings were born exactly three years ago, when our Camp was built. A pregnant female, believed to be the mother, was spotted twice drinking water from our Gomoti Private's pond. Several Spotted Hyenas, males and females, were also observed by our guests during both, day and night drives.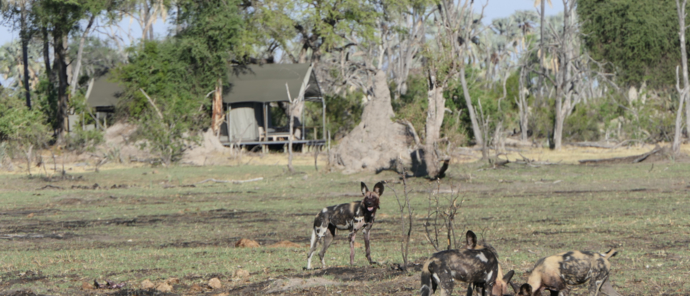 Grazers are fed upon by carnivores, which are secondary consumers. Our three male lions' coalition delighted our guests with frenzy interactions, from Buffalo, Kudu and Warthog's kills to long-day mating encounters. The more lions, the stronger they become as a pride, and thus our two resident pairs of two lionesses have been on their hunt throughout the month to be able to keep up rearing their eight and six cubs, respectively. There is something about seeing lion cubs that creates a warm feeling deep down into one's soul. Their clumsy, playful wrestling is all part of their learning process to one day be able to take down a buffalo. It has been exciting times for our guests here watching all these cubs and creating memories that will merely last a lifetime.

Whilst conducting our iconic Mokoro excursions, our nature lovers' guests experienced a peaceful face of the Gomoti riverine habitats. Gliding through water that mirrors the sky above is truly enjoyable! The trip was well-accompanied by an amazing variety of birdlife, colourful frogs, voracious dragonflies, strong swimmer Lechwes, water-dependant Waterbucks, Hippos and approaching Elephants herds.

Our Walking Safaris brought a unique opportunity to our guests to fully experience the sounds and sights of nature without running the risk of scaring animals off with a motor. Our highly knowledgeable guides taught our guests how to identify and monitor animal tracks and droppings in the bush as well as get to observe the skittish African Wild Cat, the fearless Honey Badger and the opportunistic Black-backed Jackal.

The month ended with a memorable early morning sighting of 12 Painted Wolves killing an adult male Impala right in front of Camp. These exceptional hunters have earned themselves the reputation of Africa's most efficient predator – some say that 80% of their hunts results in a kill and our sighting was not an exception. The Alpha male had a GPS/Satellite radio collar on which is used by researchers to study the pack dispersal, habitat use and settlement success in a new territory in order to inform the conservation management plans for this Africa's most endangered large carnivore.

We look forward to our next wildlife encounter together!