Wildlife Sightings July 2020
Average Temperature: 11ËšC - 25ËšC
Rainfall: None

July was the best month in a long while for all of us here at Chobe Forest Reserve because we passed our Covid-19 inspection with flying colours! We have opened our doors to the local market and have already welcomed our first set of guests who filled the entire camp for four nights. The happy vibe between the staff and guests was awesome, a little taste of normality during these tough times.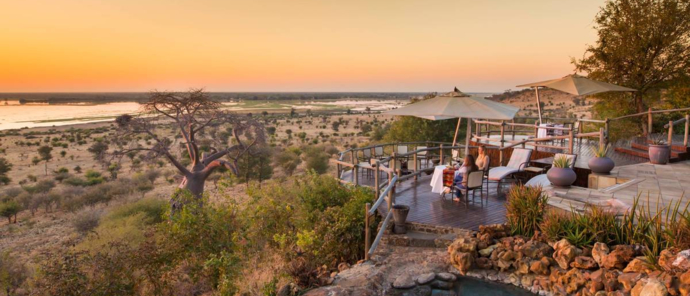 Wild Dogs and Impala
Excitement on the main deck at the lodge over breakfast was very high. Guests had returned from the drive and had caught a fleeting glimpse of the wild dogs not 20 minutes earlier. Just as everyone had started to enjoy a well-earned meal, one of the butlers shouted, "wild dogs at the waterhole!".

Everybody immediately leapt up and rushed down onto the lower viewing deck to have a look. To our amazement, two wild dogs had stopped for a quick drink whilst the other five pack members went speeding past and were hot on the heels of a small herd of impala.

All the guests very quickly jumped back into the game, viewing vehicles and raced down to the flood plain to see what might unfold. The pack had just killed an impala and were already beginning their feast. The guests were amazed at how fast the pack devoured the entire impala carcass in less than ten minutes.

Some expressions that came from the guests when they returned to the table were, "amazing, life-changing, incredible, surprising, fantastic and emotional"!
Elephants and Giraffes
As management and staff were trickling into the main lodge-area that overlooks the floodplain, we noticed considerable damage to the entrance of the lodge and the lodge gardens caused by elephants which had happened only minutes before we arrived!

We agreed that after our morning meeting, we would all get stuck in to clean up and fix the damaged leadwood fence. We gathered on the patio in the sun and noticed an elephant cow and her three or four-year-old calf drinking at the waterhole below the lodge.

There was a clear path of elephant dung left by one adult and one calf, leading towards them that proved they were indeed the culprits that had left us the lovely mess. A small journey of giraffes was also standing by, waiting for a turn to have a drink, when the elephant calf decided that they were a little too close for his liking.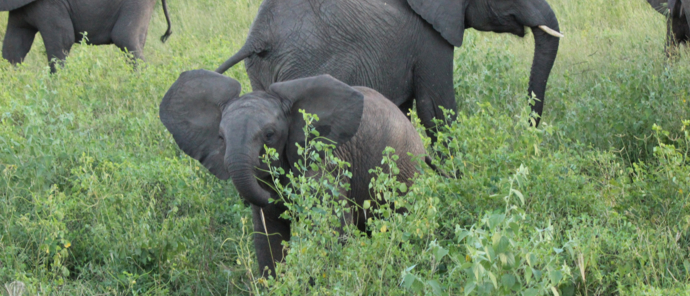 He spun around, trumpeted, and gave the giraffe a little warning charge. We all had a giggle and thought that would be the end of it. However, when he realised that they barely reacted to the whole show, he gave it another go, except this time he got much closer.

He ran at the first giraffe cow, sent her running down the hill and then turned, very chuffed with himself, and gave chase to the bull on the opposite side. The bull also went motoring down the hill in utter surprise. This little elephant had us all in stitches, what a perfect way to start the day.

This behaviour can be observed if you are willing to spend a little time watching elephants with tiny calves. They particularly enjoy giving chase to birds that may be feeding at ground level nearby.

Chasing a giraffe is rather unusual though, especially with such success. This behaviour is also crucial, as it teaches the elephant calves where exactly they fit in, in the general hierarchy between all the species.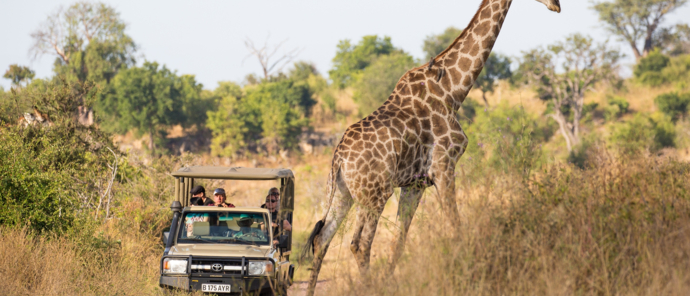 Elephants
On an early morning game drive on the last Sunday of July, Roxanne and I decided to take our kids on a little family game drive. On the list of expectations that our daughter Gaby had given us, was elephants. We were in luck, within ten minutes we saw a young elephant bull in front of us.

What made this sighting so unique was Gaby's moment of realisation upon spotting the elephant, she exclaimed at least two or three times, "Elephant, elephant, elephant!".

We spent a good fifteen or twenty minutes quietly observing the elephants. Gaby asked a few incredibly interesting questions, ones even I could not answer after years of being a safari guide!
Female Leopard
On a rather chilly evening, in the middle of July, I decided to go for a drive around the lodge property. One of the first places I like to head to is an old campsite on the border of our lodge territory and the Chobe Forest Reserve, called Camp Dave.

I panned across the darkness with my spotlight, looking for eyes reflecting the light at me and came across a herd of impala, all huddled together and staring in the same direction! Through my experience, I know that when impalas do this, there is the possibility that something may have spooked them.

Little did I know, I would nearly drive right through the middle of a leopard's hunting space. Within seconds of me taking my spotlight and eyes off the rather large herd of impala, a speedy streak of golden yellow and a long tail dashed across the road in front of me!

I got so excited I even shouted out, "LEOPARD, LEOPARD, LEOPARD!" (or at least I think I did, it is always hard to say what is reality and what is not when discovering a leopard on the hunt). I immediately switched my engine and spotlight off so as not to bother the hunting leopard or put the impala at a disadvantage.

There was a sudden thunderous sound of hooves hitting earth as the impala scattered in every direction, snorting in utter panic. It then went dead silent, slightly eerie in the dark of night, especially when you are alone!

I waited for another minute or two before switching my spotlight on again, only to find the leopard sitting exactly where the herd of impala were standing just minutes before. She licked her front paw almost as if to clean the wounds caused by a bruised ego after a failed hunt.

The leopardess did not hang around and slunk off into the bushwillow thickets as quickly as she had appeared. I found myself having a good laugh as I too moved on because I had never got a chance to take a video or a photo of any of the events, or of the leopardess grooming herself after the hunt. After all, "Why film or photograph when you can be present and watch?"

Many of the sightings this month were not very common and reminded me when you are in the African bush it is all about being in the right place at the right time.

Until next time,

Wesley Cragg
General Manager, Ngoma Safari Lodge