#JerusalemaDanceChallenge at Machaba Camp
Get those hips swaying and those feet moving, the #JerusalemaDanceChallenge made it all the way to Machaba Camp! Watch as the Machaba Family do their rendition of the famous line-dancing challenge.

This is bound to make your day! Starting off with Chef Sox and Gaone in the kitchen and then moving on to our beloved safari guides who are joined by Nala and Khan. Everyone had so much fun even the lions were swaying their heads to the rhythm of this catchy song (look closely)

The dance was so good we had to take the challenge to the waters of the Okavango Delta, let's just say our mokoro canoes came in handy! So turn up the volume, get into the groove and join us as we dance the day away!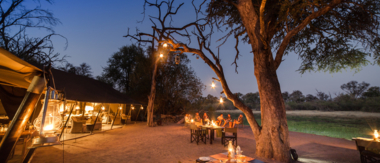 Explore Machaba Camp
Nestled in a riverine tree line, the camp offers privacy, spectacular river views and excellent food ­– enveloped in a layer of warm hospitality.
Read More
Discover Little Machaba
Little Machaba is a traditional safari-style camp in the game-rich Khwai concession in the northeastern region the Okavango Delta.
Read More