Sightings August 2018
August – A month of Change

After the incredible month of July that Gomoti Plains Camp had, it is hard to believe that August would come even close – but it did.

Where do we begin to try and explain – how about a group of guests that saw a female cheetah and her two cubs on a steenbok kill, a white rhino and a leopard on a warthog kill – all on the drive in from the airstrip, before they had even got into camp! And to add to that, a herd of over 800 strong buffalo, viewed from our boat, stampeding through floodplains in a cacophony of splashing and noise that could be heard miles away, breeding herds of elephant in camp every day, lala palms all over the concession, including right in the camp, being shaken by elephant for the now ripe fruit, hippos visiting within 10m of the evening dinner table and the cutest leopard cubs, just to give you a couple of examples!

Other highlights included a complete, successful cheetah hunt – from stalk, to sprint, to strangulation of the impala about 20m from the vehicle, followed by the exhausted female calling in her three cubs to share her bounty, a day time sighting of leopard on a fresh porcupine kill, three days spent with a magnificent male leopard 400m from camp on his large warthog kill, mating lions 200m from our bush dinner, yet another cheetah with five less-than-one month old cubs, a pair of honey badgers raiding a bee hive, the coalition of three male lions wading chest deep across the channel adjacent to the camp, guests witnessing ostrich chicks hatching from their eggs, regular nocturnal sightings of Aardwolf – the list just goes on and on!

For those that are following the saga of our Camp pride lion cubs, unfortunately we have nothing to report – they have not been seen again since the new coalition of two brothers have taken over the territory. We can only hope that they have all survived and are flourishing deep in the wilderness somewhere!
Climatically and environmentally this month has seen many signs of seasonal change. The floodplains that were affected by the devastating bush fire last month are now almost 50% flooded, as the Gomoti River broke its banks this month, changing a blackened, sooty landscape into water as far as the eye can see. This flooding, combined with the new sedge and grass growth, has created a wonderland for grazing mammals and attracted 1,000's of water birds – including a large flock of the highly endangered Wattled Crane.

Days are getting longer and early morning temperatures are slowly rising above the 10 degree mark, mid-afternoon peaks are well over 30 degrees celsius as we gear up for the seasonal heat waves before the summer rains. The influx of inter-Africa migrating birds has not arrived yet, but the avian residents are all starting to develop their breeding plumage in expectation of summer.

We have still not had any rainfall – and don't expect anything substantial for at least another 8 weeks, but we did have our first build-up of small, puffy cumulus clouds. Water levels in front of the camp continued to rise, but the main channel seems to have subsided lately, so we do not think these wonderful floods will last much longer. All of the waterholes that held the last of the long forgotten rainy season's moisture have now all dried out resulting in much higher concentrations of wildlife in the floodplains and riverine forest areas around the camp.

What will September hold? Lots more incredibly special sightings that only the Okavango can produce – that's for sure! The first flushes of green as signs of new growth push out of the drab, dusty brown that we have got used too? The first of the migratory birds? Impala calves dropping after the first rains? Who knows – but we can guarantee that it will be spectacular!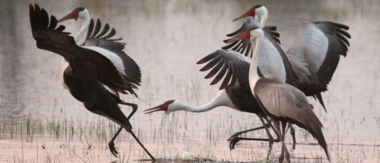 What to expect on Safari
An unknown experience can be both exciting and daunting, we have unpacked some of the practical aspects of going on safari.
What to Expect