A humbling moment for Zimbabwe.
It recently came to light that Zimbabwe had granted exploratory rights to mine for coal in one of the country's most iconic nature reserves, Hwange National Park.

Following this announcement Blessing Munyenyiwa, co-owner and founder of Machaba Safaris Zimbabwe, took it upon himself to address President Emmerson Mnangagwa in a heartfelt video. In the video, he pleads with the president to make one of the biggest conservation decisions in the history of the country.

After gaining phenomenal traction and support from locals and people all over the world, the Minister of Information declared on Tuesday evening that mining on all areas held by National Parks is banned with immediate effect.

We are extremely proud of Zimbabwe as a nation, and of Blessing as a partner, for standing together to ensure that the beauty and wildlife of Zimbabwe will be protected for generations to come.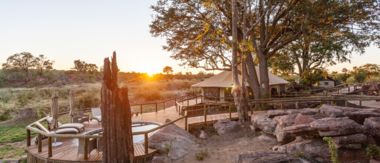 Deteema Springs
The camp is perched on a slight rocky rise above permanent water springs, offering magnificent views of large concentrations of animals, including elephants.
Find out more