Mana River Camp Wildlife Stories August 2023
Tons of fun was had this month at Mana River Camp. The sun rising earlier means we have more time to explore the iconic Mana Pools National Park.
A Different Perspective
One of our favourite ways to explore the magic of Mana Pools is by canoe. Drifting slowly down the Zambezi, you can truly take in the mesmerising park and the life that thrives upon its banks. As we glided down the river, we noticed some elephants on the banks and a pod of hippos peeking out of the water.
The Pod Takes an Outing
Seeing hippos out of the water is quite an extraordinary spectacle. On our way back to camp after an afternoon game drive, we noticed a pod of hippos out of the water.

During the day, we often find hippos submerged as they have incredibly sensitive skin and the water protects them from the African sun's rays.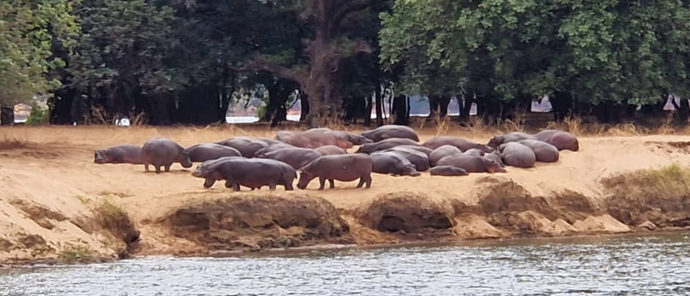 Bathtime
Bathtime in the bush looks a little different.

The wildlife in the African bush has found a natural SPF to beat the strong African sun. The waterhole near camp is often frequented by a plethora of animals looking for a bit of mud.

As the mud dries and the dust settles on their skin, it forms a thick protective layer and acts as a sunscreen. We love watching the elephants, elands and impalas practice good skincare so close to camp.

We celebrated a guest's 70th birthday and experienced unforgettable wildlife sightings at Mana River Camp this month. All our guests take home memories that will last a lifetime, as we welcome more guests into camp, we can't help but wonder what Mana Pools will show us next.

Until next time,
Shepherd, Tinashe, Henry and Brain
Mana River Camp