Kiri Camp Wildlife Stories October 2022
October has been an extremely hot month, with many storms forming overhead only to be blown away by the wind. Our total rainfall for the month was only 6mm, although low, this has sparked an incredible transformation within the trees as they go bright green in preparation for the upcoming rainy season.

All this dry and hot weather has meant that the Boro River dwindled to a trickle while the Kiri River dried up entirely with only a few isolated pools remaining. One of the little pools left behind on the Kiri River at Magic Corner has formed a beautiful lagoon. This has become a hotspot for the game in the area.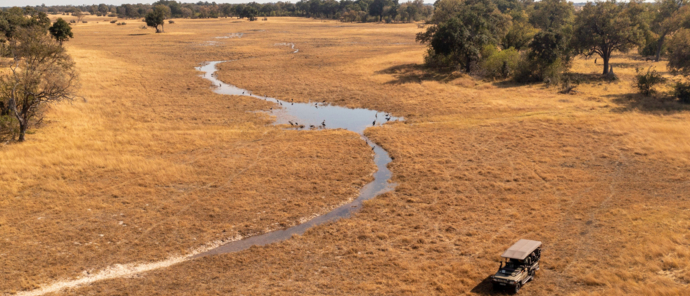 Life and Death
Guests were equally excited as they were saddened by watching a thrilling hunt by a pride of 14 lions. The pride managed to take down a big warthog and began feeding right in front of the guests. Watching this life-and-death struggle is never easy, even for the most seasoned visitors to Africa.
A New Pride In Town
We were so excited to welcome a new pride of 13 lions to the area. They were spotted prowling in the north close to the baobab tree. This pride is much different than our resident Kiri pride, they only have one older dominant male compared to our two big boys that took over the resident pride.
A Rare Pangolin Sighting
Our guests were delighted to experience a once-in-a-lifetime encounter of a wild pangolin. We spotted this remarkable and critically endangered animal along the Kiri River towards Magic Corner, it was curled up in a defensive position to protect itself. What made this sighting extra special is that we were able to spot this usually nocturnal animal during the early afternoon.
Kiri Blue Eyes
Our favourite leopard, Kiri Blue Eyes, managed to not only catch and hoist a baby tsessebe 25 metres up a rain tree, she also shortly afterwards killed a baby warthog and hid it in a blue bush just 50 metres from the rain tree. This beautiful cat is proving to be a formidable hunter!
A Small Kill
While out on drive near the Boro River, Christian came across the resident pride of lion feeding on a young buffalo thay had just killed. Peter soon joined with his guests who watched quietly as the pride lounged around and slowly fed on the kill. The rare lioness that has a mane was also present to make the sighting even more interesting.
Protective Parenting
We have been keeping a close watch on a pair of crowned lapwings that have been nesting alongside our airstrip. Each time a vehicle approached or moved by, the parents would spread their wings out defensively to ward off danger. Their commitment to their two little eggs is remarkable. The two little eggs have since become two little chicks that now run around the airstrip.
This hot and dry month has seen the animals getting desperate for resources. With the impending rains on the way we hope to see some relief for the wildlife soon. We look forward to the rivers flowing once again, and the lush green foliage that comes with it.

Until next time,
Christian
Kiri Camp Guide