Sightings February 2017
February at Machaba Safaris has brought near record rainfall this season, saturating the area, causing the river Khwai to rise substantially and the plant life to explode into near jungle status. With the rain clouds also brings ever dramatic sunrises, sunsets, and even the odd rainbow.

Generally, the wet season is mistaken as a time where very little wildlife is seen, with the rains causing the game to take cover and the thick vegetation making it difficult to spot very much. Thankfully for Machaba Safaris' guests the area's predators are yet to disappoint, with big cats seen almost every day! Our resident leopardess and her sub-adult son have both regularly been seen lounging close by to camp, ever ready to pose for the cameras.

Not only have the leopards been presenting themselves this month, as the lions who usually pass through the area regularly have decided to set up base next to one of our favorite sundowner spots- and with good reason, as one of the lionesses is nursing a very young cub.

There may also be some more cubs on the way, as other members of the pride have been putting on an aggressive show for our guests while they've been busy mating.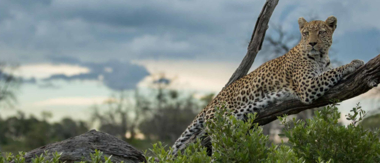 What to expect on Safari
An unknown experience can be both exciting and daunting, we have unpacked some of the practical aspects of going on safari.
What to Expect