Ingwe Pan Wildlife Stories October 2023
The dependence on the remaining water sources reaches a critical point in the African bush. As few available water sources become crowded, we have been experiencing unbelievable wildlife sightings.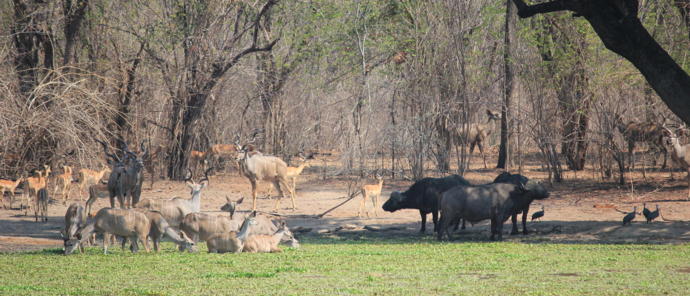 A Dominating Presence
Our dry winter has resulted in thinning vegetation and a short supply of water for our animals in the Mana Pools wilderness. During a game drive recently, we stopped to watch a pack of wild dogs resting beneath the shade of a tree near a diminishing pan.

A group of elephants approached, picking up the scent of wild dogs. The matriarch took it upon herself to intimidate the wild dogs to allow her herd to drink from the waterhole uninterrupted. Trumpeting and charging at the wild dogs, the elephant made her intentions known and soon the wild dogs received the message and moved on.
Confrontation Avoided
Calmly drinking from a waterhole after a long, hot day in the African bush, two leopards were alerted to lions approaching with chilling roars that reverberated in the dry air.

As the pressure mounted, the leopards sought refuge in a tree to avoid confrontation with the oncoming lions.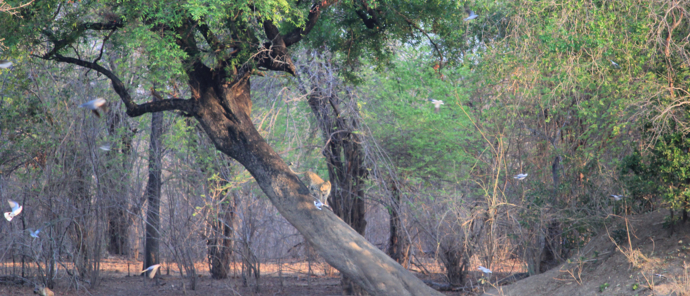 Waterhole Madness
Two lionesses took up residence for the day on the shaded outskirts of a waterhole near Ingwe Pan. In between sleeping and drinking from the pan, they made a few failed attempts to ambush some warthogs who had risked their lives to drink from the same pan.

Herds of kudu and impala kept their distance but were forced to advance into the danger zone to quench their insatiable thirst.

Keeping an eye on the scene from the treetops surrounding the pan, a troop of baboons was on standby to alert unsuspecting prey to the lionesses' movements. Spoiling any remaining chance the lions had at a meal.

The atmosphere is tense in Mana Pools as we and the iconic African wildlife await the summer rains. As danger lurks in every corner, we have been on the edge of our seats this month. Already looking forward to the next and what changes may come.

Until next time,
Nkosana and Honest
Ingwe Pan