Wildlife Sightings Report - June 2021
June was a particularly cold month at Machaba Camp, but the excitement of this month's incredible sightings and unmatched landscapes kept everyone warm and ready to go!
Lions at Machaba
Adventurers looking to see lions this month were not disappointed! For virtually the whole month, lions were in and around Machaba, roaring and calling to one another.

One afternoon the distinctive sound of crunching bones was heard during a game drive, and with the help of some nearby vultures (a sign of a nearby kill), our guests found quite the sighting. A pride of lions munching on a buffalo carcass!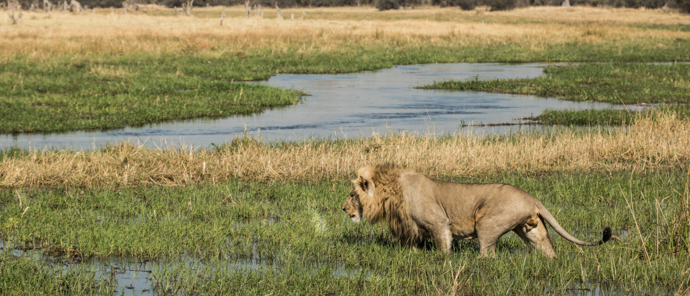 You Steal My Kill, I Steal His Kill
The first rule of wildlife spotting in the Okavango Delta is to expect the unexpected. During a game drive, our guests were treated to seeing a pack of wild dogs hunt, chase and kill an impala. Unfortunately for the pack, a group of lions showed up, stole their kill and chased them away.

Still hungry from their earlier misfortune, the pack was later found feeding on a not-so-fresh warthog carcass. Catching and killing a warthog in that short amount of time? It seemed too good to be true.

That's when we realised that the warthog didn't belong to wild dogs, it belonged to a male leopard that was in a nearby tree! The leopard tried to get its kill back, but he was no match for their numbers and had to give up on it.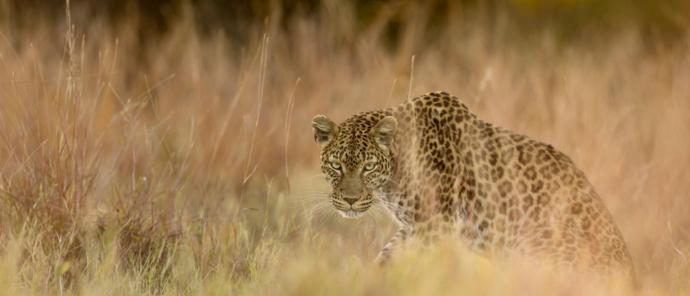 Elephants Everywhere
Elephants are everywhere! From herds and bachelor groups to loners just wandering about, the 35,000-hectares of Khwai Concession had these amazing creatures dotted all throughout the region this month.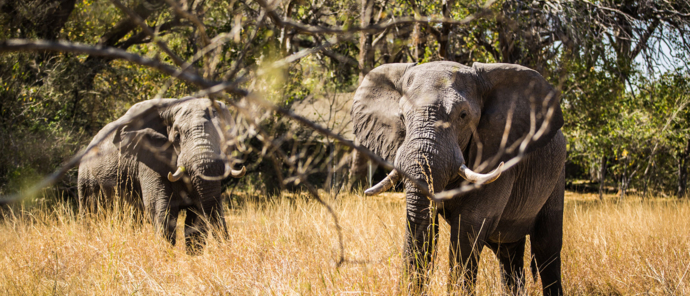 Hurt Hippo
Winter is generally hippo season at Machaba Camp, so seeing them in the river and along the pan was no surprise. Recently a hippo moved into the muddy waters at Wild Dog Pan.

We observed big gashes and scratches all over its back and think it's the handiwork of another hippo, and as you can imagine, the injured hippo is quite a grumpy fella.

He keeps a close eye on our vehicle and even bares his teeth when we inch closer to him. Sad as it may be, we expect to see more injured hippos in the future. With water levels receding, the fight for the shrinking territories will become more fearsome and frequent.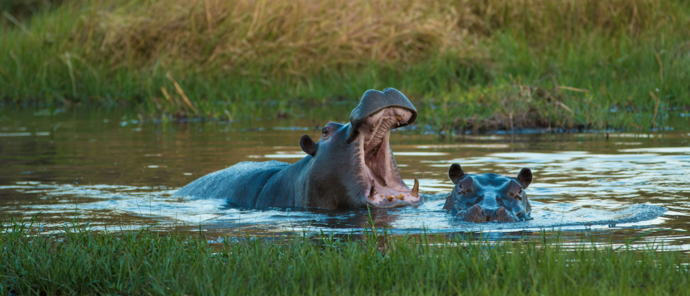 It's Not Easy Being An African Wild Dog Pup
The pregnant wild dog we spotted with her pack last month has successfully given birth to nine of the cutest little wild dog pups we've ever seen. In fact, these are the first pups we've seen in two years!

Our guests loved going to see the pups play near their den, but one day Mother Nature decided to teach youngsters how unforgiving living in the wild can really be.

The rustling of a nearby bush alerted all the adult wild dogs that a young lion had arrived! The pups made a B-line for the den while the adults tried to distract the predator and halt its approach. Luckily the lion only ended up sniffing the entrance to the den and eventually walked away.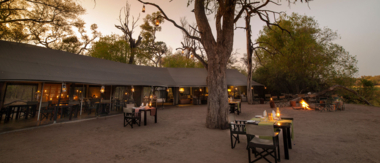 Machaba Camp
Machaba Camp is an iconic 1950s style safari camp alongside the picturesque Khwai River to optimise privacy and views of the animals coming to the river's edge to drink.
Read More