Gomoti Plains Camp Wildlife Sightings October 2023
In October, we experienced very high daytime temperatures and humid nights, occasionally accompanied by strong winds and only a handful of cloudy days.

On a few afternoons, we witnessed dramatic thunder and lightning displays, although they brought no rain. Remarkably, the floodwaters in front of our camp have abruptly receded, unveiling a parched landscape that retains a touch of greenery in the form of resilient shrubs lining the nearby channel.
Model Lions
During an exciting game drive, we were treated to a remarkable sight as we came across three majestic male lions reclining along the tranquil water channel situated to the north of our camp.

These magnificent creatures seemed to be embracing the moment, striking elegant poses while we clicked away trying to capture their captivating essence.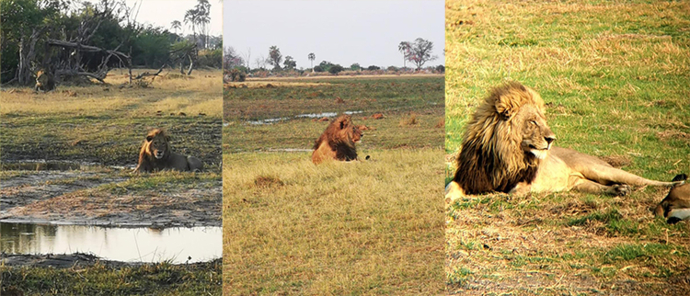 Wild Dogs Visit Camp
During a tranquil morning in the camp, four wild dogs made an unexpected appearance just as the guests were sitting down to breakfast. In an instant, the camp's atmosphere transformed a quiet breakfast to a thrilling safari. The wild dogs strolled through the campsite, seemingly unfazed by the excited guests sitting nearby.
Unexpected House Guest
A graceful female cheetah decided to make the open expanse behind the staff camp her temporary home. For two days, guests were lucky to witness this magnificent big cat multiple times during their stay, a truly exceptional and memorable wildlife encounter.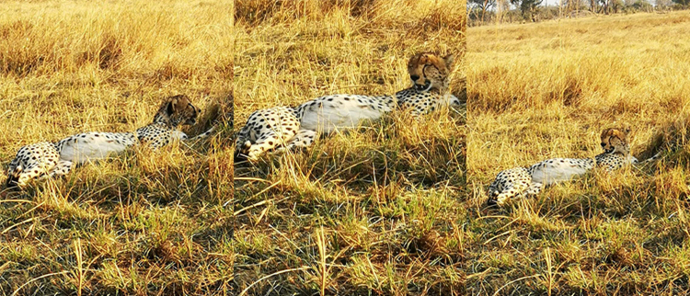 A Thrilling Night
At about four in the morning, the entire camp was abruptly awoken by a cacophony of roars, and eerie sounds of a wild. The source of this commotion came from our resident pride of lions, who had decided to introduce their five adorable cubs to our camp, creating an unexpected mix of wonder and terror.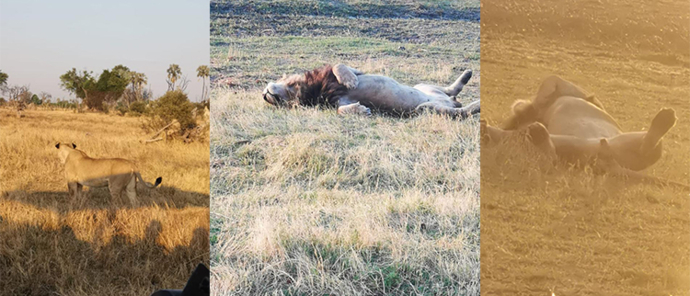 We couldn't ask for better wildlife encounters in October. These exciting moments on safari continue to wow us every day. We look forward to the coming days as we watch life unfold at Gomoti Plains Camp.

Until next time,
Cyrus
Gomoti Plains Camp