Mana River Camp Wildlife Stories September 2022
As we welcomed back spring's warm, dry weather in Mana Pools, we also saw the return of many large herds of animals to the area. We often have an array of wildlife visit the camp in search of shade and water, making for some incredible wildlife encounters at this time of the year.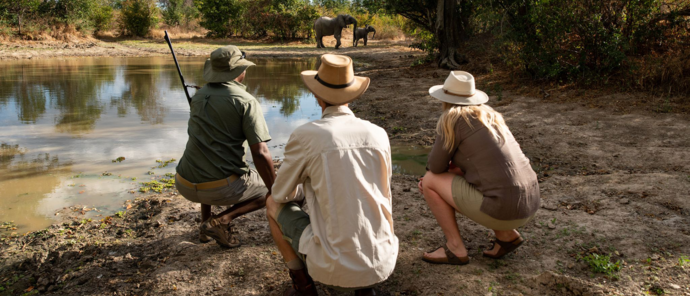 A Lucky Sighting…
We had the opportunity to host a couple who were frequent travellers to Africa but were yet to have their first wild dog sighting. They set out on the first game drive for their trip with guide James, in the hope of seeing the dogs.

As they left camp and made their way past the airstrip, the couple were ecstatic to finally encounter wild dogs, as an entire pack were resting in the shade of a big bush.
The Luck Continues…
The very next day after the initial wild dog sighting, the couple opted for a guided bush walk to the long pool in the morning. As we moved past the bushes surrounding the pool we came across the same wild dog pack stalking an impala.

We watched in awe as the pack chased down the impala and made the kill. It was the sighting of a lifetime that these seasoned travellers will not soon forget.
A Feast For All
While out on a walk around Chisasiko Pool one morning we were so excited to come across a few hyena feeding on a buffalo. We walked back to camp instantly so we could return to the game viewer.

The scene we arrived back to was quite different. The hyenas had been chased off and the lions had taken over the meal. What struck us most was the sight of being able to see the lions feeding through the ribcage of the buffalo!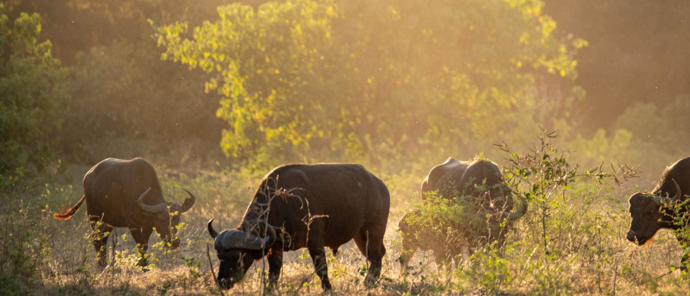 We just loved this September at Mana River Camp, the sightings have been incredible and the weather even better. We look forward to more awe-inspiring moments in the coming months.

Until next time,

James and Temba,
Mana River Camp