Wildlife Sightings Report - October 2021
This month we celebrated the life of our dearly departed Chris Kruger, a mentor, friend and father. To honour his memory we set out into the African wilderness to experience the untouched nature he loved most. We spotted a mother leopard with her cub, witnessed incredible herds of buffalo and marvelled at predators while they were hunting!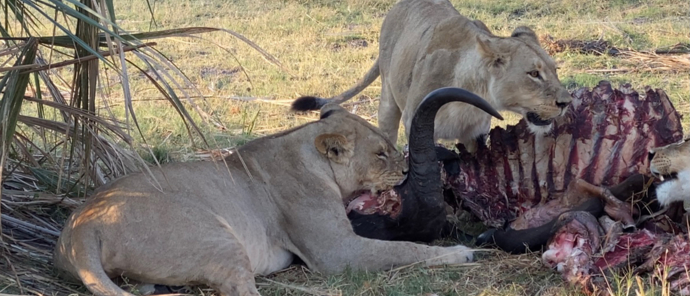 Playtime!
Seronga, our resident female leopard, was spotted in some thickets with her cute little cub last month. Since the last time we saw them, the cub has developed quite a playful personality. The little one attacking her tail, jumping on and off branches and just being curious.
More Buffalo, More Hunting Opportunities
The lions near Machaba Camp had the time of their lives in October! Hundreds of buffalo congregated in the area for the impending season's first rains. While on safari we managed to spot a group of 12 lions and their cubs take down a fully-grown buffalo! On another occasion, we had to quickly gather our guests from their various activities when we heard of another hunt happening close to camp. This time a different group hunted, killed and started feeding on a buffalo right before our eyes. This was a very special sighting, one that very few people ever get to see!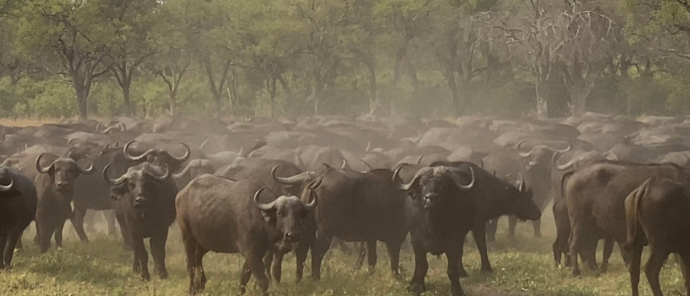 An Unexpected Guest
We welcomed an unexpected guest to our Little Machaba pre-dinner drinks one evening! It was a beautiful serval! The medium-sized wild cat totally ignored us while it was hunting for mice underneath our floodlights. We followed her for a while and got to see this exotic cat stay perfectly still before she pounced and caught several mice. How's that for pre-dinner entertainment!
I'd Like To Make A Booking
There is always an elephant sighting waiting for you at Machaba Camp. When one of our guests was having a relaxing massage, an elephant bull came along and made sure that even a wellness treatment would not be without an incredible sighting! We weren't 100% sure but it could have been wanting to make a booking!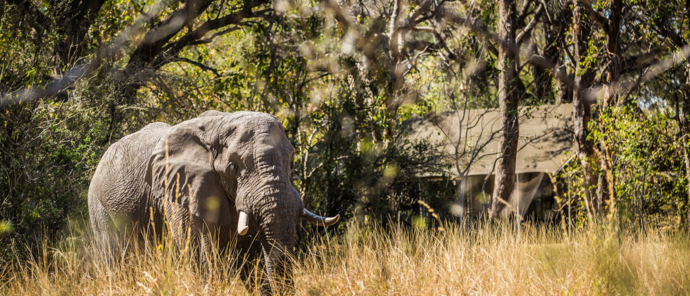 The Thrill of the Chase
Seeing wild dogs hunt is a thing of beauty. These marvels of the African wilderness are such effective hunters that they are among the best on the African continent. We had the privilege of seeing them chase, catch and kill their prey on multiple occasions.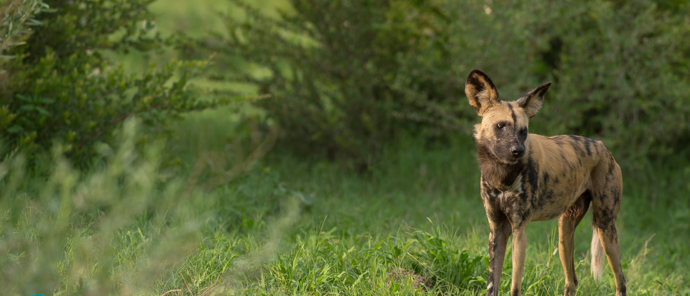 Baby Bump
We check in on our resident banded mongoose from time to time and as always, they are still hanging out with their friends, the baboons. Though, to our surprise, one of them is pregnant and is definitely starting to show her cute little baby bump!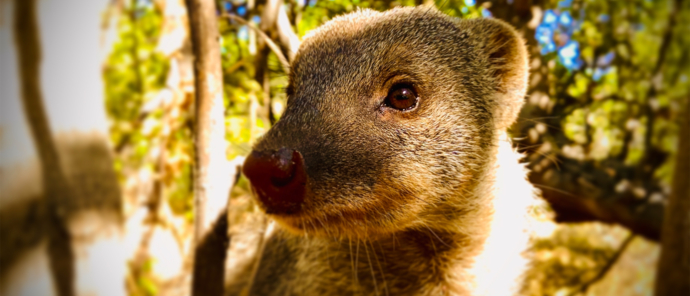 See You Next Time
October was so full of life we know November will be even better! The season's first rains are approaching, which means prolific numbers of wildlife will be making their way to the Machaba Camp area for their annual visit to this untouched natural paradise.

Keep an eye out for our next Machaba Camp wildlife report a month from now.
Elcke and Shaun Malan,
Machaba Safaris General Managers