Ingwe Pan Camp Wildlife Sightings September 2023
The spring weather has arrived at Ingwe Pan bringing with it much warmer days with the mornings remaining cool.
Lions vs Elephants
A pair of male lions approached the watering hole, only to be swiftly chased away by our resident pachyderm protectors of the camp, the elephants. The first chase occurred when a younger sub-adult male lion dared to quench his thirst. However, a protective mother elephant swiftly charged him, pushing the thirsty lion back, ensuring he retreated at least 100 meters away.

The other lion, thinking he would be fine, casually rested by the pan's edge. However, the mother elephant was determined to eliminate all threats to her little one. She promptly swung around, chasing the lion with her ears flapping, tail straight, and trunk swirling wildly. She pursued the lion for another 100 meters.

The lions obeyed and kept their distance until they couldn't bear the midday heat any longer and attempted to drink once more. Fortunately, one of them managed a quick sip before they were chased off again. Our guests captured this scene from the comfort of their rooms.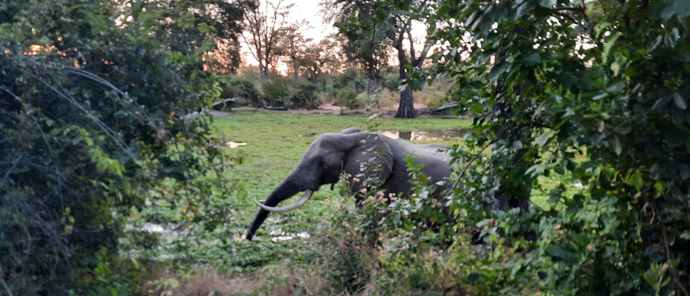 Playful Honey Badgers
We went on an afternoon game drive and decided to pass by the small Ingwe pans, where we had previously observed a pride of lions feeding on a baboon carcass. This time we didn't spot the lions but came across two honey badgers playing with the remaining bits of the carcass near the water pan.

We spent some time observing them until they eventually grew tired of their game of tug-of-war. They quickly transitioned into hunting mode and disappeared into the dense bushes.
Between Wild Dogs And Hyena
We were on a morning game drive heading towards the open area of Mana Pools when we encountered a pack of wild dogs running on the open floodplain. We followed them, and along the way spotted a clan of hyenas. We decided that this would be a great time to do a short walking safari. We carefully and quietly moved between the hyenas and wild dogs as they rested nearby. This thrilling walk in nature was a highlight for our guests.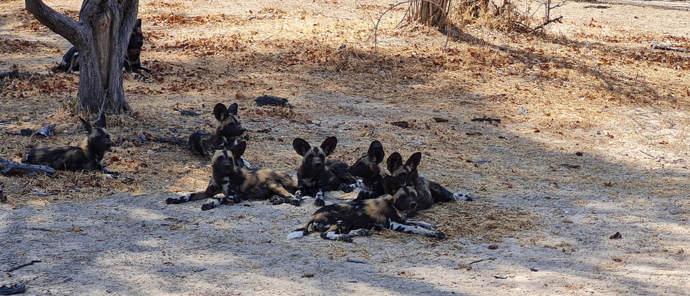 Lucky Leopard Sighting
As we were driving back from the floodplain just after sunset, we travelled along the road encircling the pan, keeping an eye out for any unexpected encounters. Luck was with us when we reached Tent 8. There, we spotted three leopards, a mother and her two sub-adult cubs, who were stealthily stalking impala and preparing for an early evening drink.
Caracal!
One afternoon, as we were heading out, we went to the little Ingwe pan to see if the wild dogs were around. To our surprise, what we ended up spotting was a caracal. We don't often see them in this area so this once-in-a-lifetime sighting left our guests overjoyed.

We had a wonderful assortment of wildlife encounters this month, from the shy caracal to the feisty honey badger. As we get closer to the end of the dry season the water is becoming much more scarce except for our beautiful Ingwe Pan.

Until next time,
Misty, Brian, Shepherd, Honest
Ingwe Pan Camp