Sightings June 2021
The dry season at Deteema Springs may be cold, but it is also one of the best times to go on safari! For the entire month of June, we were treated to amazing sightings. From vultures circling a carcass to a close encounter between a lion and an elephant, so much has happened in just 30 days!
Follow The Vulture
During one exceptionally chilly morning game drive, we spotted a wake of vultures circling in the sky above something in the distance. As we got nearer and nearer to the destination, our anticipation grew, and when we turned that final corner, everyone on the game drive exploded with happiness (silently of course). What we found was a lioness feeding on an elephant carcass!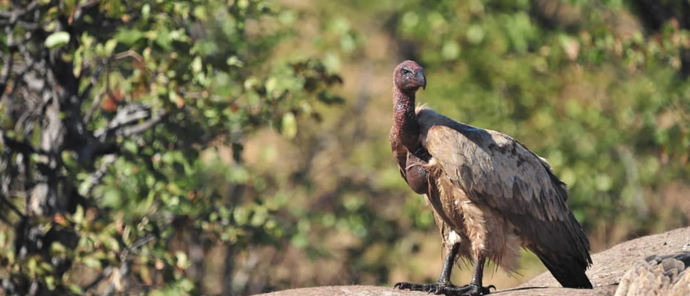 Who's Really The King?
One of the most exciting things to see on safari is two different species of animal interacting with each other! On one of our game drives, we came across a lioness and decided to follow her. As she was going about her day, she decided to go drink some water at a nearby dam.
When we got there, there was an incredible elephant bull having his own drink and bathing in the water. Almost as if to stake her claim to the dam and the rest of the African plains, the lioness decided to have her drink near where the elephant was. He decided that that was not going to happen. He postured himself then walked closer to the lioness! This was all happening while a bloat of hippos spectated with us.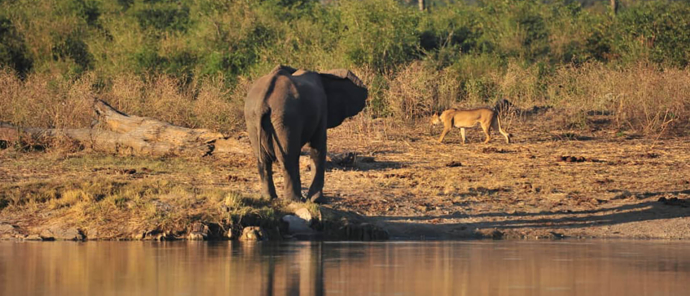 Virtuous Vultures
For the most part, people rarely pay attention to vultures unless they're being used as a beacon to find a nearby carcass. However, vultures are incredible creatures in their own right. They consume decomposing flesh, preventing other, less resilient animals from eating spoiled meat and stopping the spread of bacteria.

We were lucky enough to see some rare and endangered white-backed vultures on one of our safaris. We spent over an hour watching them fight and feed off of an elephant carcass.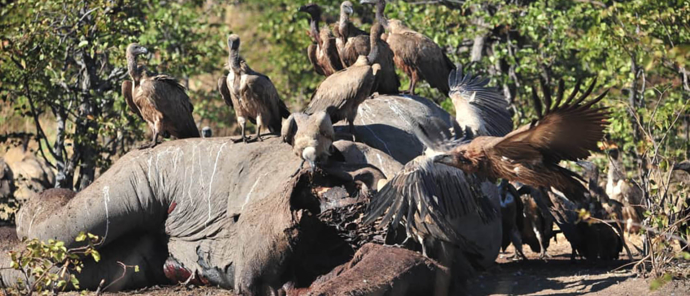 Chilling With Cheetahs
We think it's safe to say that Deteema Springs Camp's armchair safaris are back in full swing! For a couple of days, we enjoyed rare female cheetah sightings in front of camp. The beautiful creature occasionally showed up to hunt for some impala and lazed about in the shade of the rocks.

What's even more exciting is that we also believe that she's pregnant! Here's hoping we see another cute little speedster in the near future.
Where's The Next One?
Elephants have to be one of our all-time favourite animals to spot at Deteema. There isn't a day we won't miss seeing these magnificent creatures and our guests often come across them as they make their way around camp. This is just a guess but we think the elephants love Deteema just as much as we love them!

One morning we came across a bull standing in the middle of the pathway. It was an incredible sight, but unfortunately, we had somewhere to be. So, after five minutes of pleading with the pachyderm (large mammal with thick skin), he very kindly let us pass.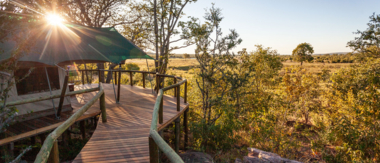 Deteema Springs Camp
Deteema Springs is a small concession area in a well-known northern region of the Hwange National Park. Deteema offers amazing opportunities for walking safaris and viewing wildlife from the comfort of the camp.
EXPLORE DETEEMA SPRINGS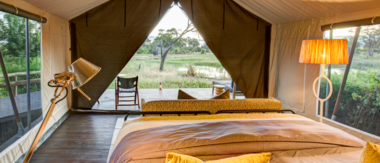 Explore Zimbabwe
A country of dramatic landscapes, Zimbabwe is home to one of the Seven Natural Wonders of the World, a wide variety of rare animals and a nation of gentle people with an impressive heritage.
Find Out More