Gomoti Camp Wildlife Stories January 2022
The lovely summer rains in January drenched the parched land, and the bush has never looked so lush. The dull brown colours of the dry winter months have been replaced with glorious green foliage. All this rain could never dampen our spirits and we had the most incredible animal sightings!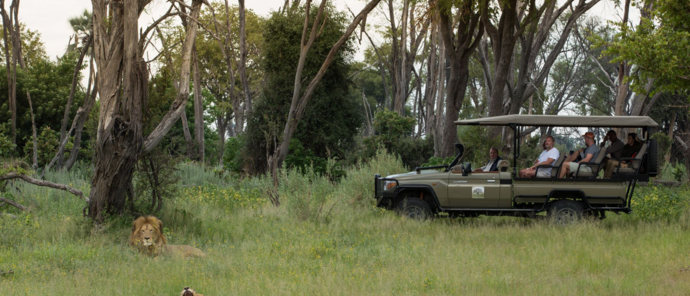 A Fluffy Surprise!
On one of our early morning game drives, we were delighted to have spotted two pairs of large ears belonging to shy bat-eared foxes. As we approached them they ducked down and tucked their ears back to make themselves a little bit less conspicuous. Once we got a bit closer they darted off and to our surprise, we saw they had four tiny and fluffy kits with them! Bat-eared foxes are nocturnal so spotting them during the day was a real treat!
A Forkl of Kudu Bulls
Thanks to the recent downpours in the area the bush is extremely lush and full of nutritious foliage. Kudu in particular look incredible this time of year with all the extra weight they have gained. We came across a group of kudu bulls on a recent drive. Seeing these gentle antelope in a large group was breathtaking.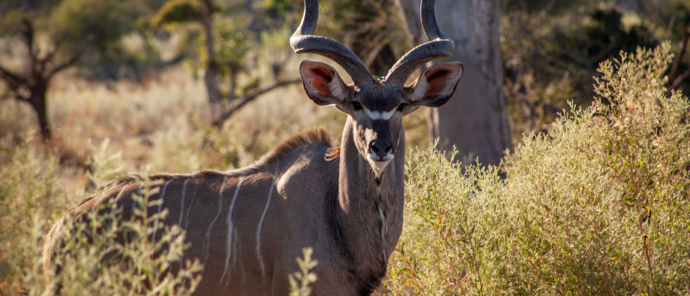 A Rare Battle
Expect the unexpected in the Okavango Delta. On a recent inspection of the airstrip, we were surprised to see an ostrich chasing two wild dogs. As we approached we realised there was a rare battle taking place between these two species.

The wild dogs with their pups had come across an ostrich with her chicks, which then turned into a great opportunity for the pups to learn how to hunt. What ensued was a mother doing her best to protect her chicks and another mother doing her best to prepare her pups for life in the bush.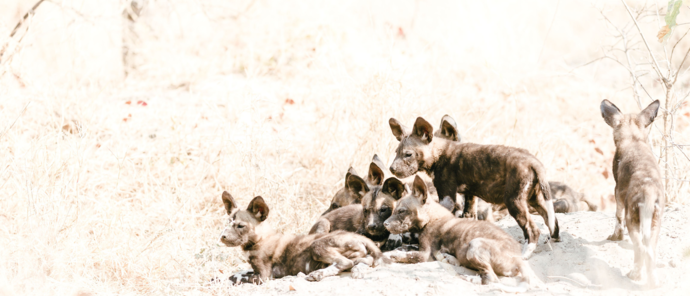 Birder's Paradise
The shallow floodplains of the Okavango Delta have once again attracted a plethora of remarkable birdlife. Huge numbers of wading birds have been spotted along these perfect feeding grounds lately. It has been a spectacular month for our birding guests!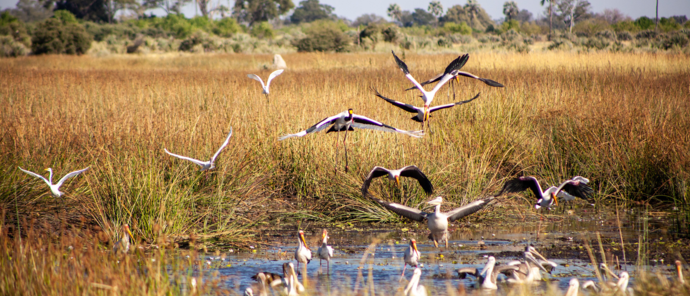 Anyone for a Drink?
On a recent trip down to the banks of the Gomoti River for a sundowner, we were joined by six black-backed jackals who were obviously also keen for a drink. They were extremely relaxed which is unusual for these usually skittish animals.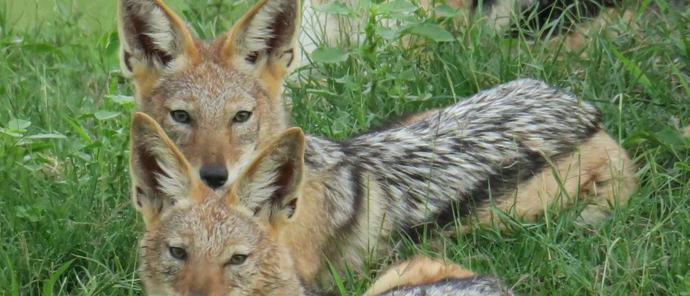 Some New Faces
This month we were surprised to have found three new male lions in the area. We had never seen these individuals before so it will be very interesting to see how this plays out with the other resident lions in the area. We were also delighted to spot a cheetah mother with three cubs. We just love watching the cubs grow into independent hunters!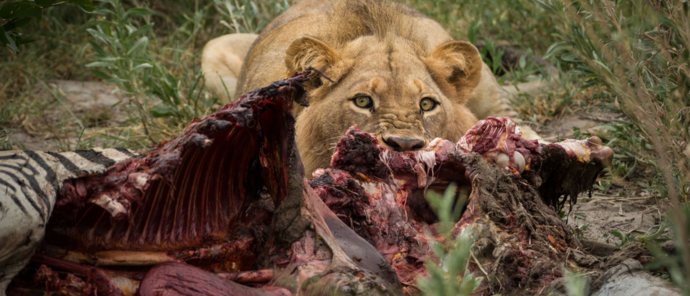 A Great Start to 2022!
The first month of the year was full of surprises and happy moments, especially when the lost lion cubs finally found their way back to the pride! We can't wait to see what the rest of the year has in store for us!!

Until next time,
Ponche Whelpton
General Manager, Gomoti Plains Camp