Wildlife Sightings Report - October 2021
October was hot both in terms of temperature and the kinds of amazing sightings we had! There was so much to see we almost couldn't keep up. Our guests even enjoyed sightings before they got to camp, saw a touching reunion and witnessed lions almost every day.
Upon Your Arrival
There was already some amazing wildlife to see as a few of our guests landed at our airstrip! After we picked them up to head to Gomoti Plains Camp, we found two cheetah brothers feeding on a pregnant impala kill. We radioed back to camp and let everyone know and they left their afternoon tea to join us!
Where Are They?
We spotted lions almost every day in October. On this particular occasion, we caught up with the southern pride of lions feeding on a young zebra carcass. This was the first time we saw the pride's new cubs feeding with their mothers and they already seem used to eating meat. Strangely enough, instead of eight cubs, there were only six.

We assumed they were just hiding in a nearby bush and spent the rest of the morning watching them finish their meal before resting under some nearby shade. Later that afternoon we found the southern pride underneath the same shade with the two missing cubs still nowhere to be found.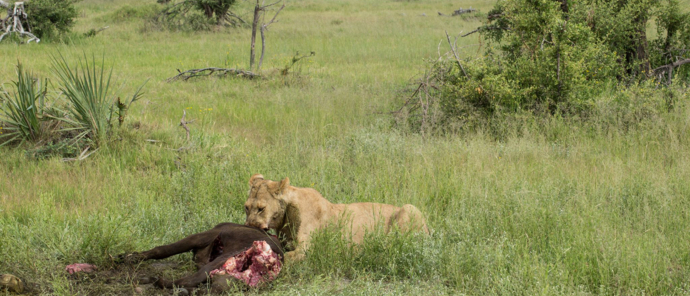 We Found Them!
About a week after we found out two cubs were missing from the southern pride, we spotted them near our Gomoti Plains Camp one evening. They were still separated from their mothers and looked very confused and hungry, it broke our hearts.

We knew their pride wasn't too far away from them but they were walking in the opposite direction. We stayed with the cubs until sunset when they started to call out to their mothers without any response. The following afternoon we found the southern pride still with only six cubs.

We stayed with them until the mothers left the cubs under a bush and started looking for the missing two. We followed the mothers thinking they were going out on a hunt. To our surprise, the pair of mothers were looking for the missing cubs.

They led us straight to the location the missing cubs were the previous evening and started to call desperately for their little ones. We heard the cubs cry out for their moms and then emerge from underneath a small bush. This was such a heart-warming moment that everyone was on the verge of tears.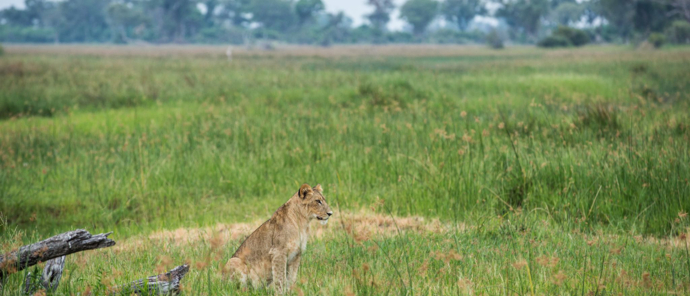 Bountiful Birdlife
The shallow flood plains continue to attract thousands of rare bird species with the summer migrants still arriving daily for the impending rainy season. What used to be expansive floodplains are now shrinking pools of water. We regularly see multiple species of birds wading through the water to feed on trapped fish and crustaceans.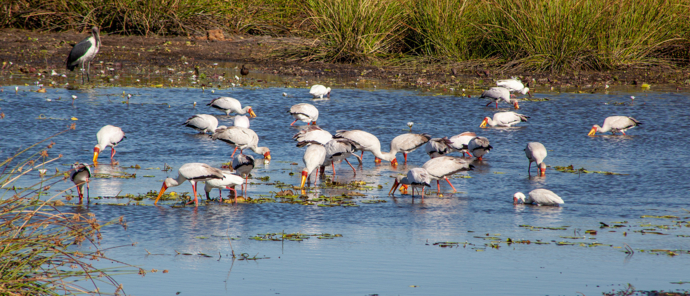 Double Zebra Kill
It's not often we get to see something like this! On one of our game drives, we followed a kettle of vultures all the way to a pride of lions. The two adult lionesses and five subadults were feeding off two zebras they had killed the previous day.

Their kill was quite far from the water and they all looked very thirsty. So naturally, they set off looking for water. We followed them to their first watering hole, but to their disappointment, it was dry. They decided to lay down in the mud and we headed back to camp. The next day, we found them enjoying a drink of water at a nearby river.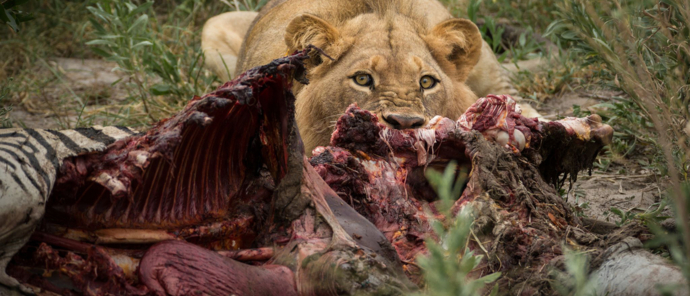 See You Soon
With wildlife sightings straight off the plane, touching reunions between mothers and cubs and birdlife in prolific numbers, we couldn't ask for a better October at Gomoti Plains Camp! Stay tuned for our next Gomoti Plains Camp wildlife report, this time next month.
Until next time,
Onx Manga Manager