Wildlife Sightings September 2020
Average Temperature: 35ËšC to 44ËšC
Rainfall: Light Showers

September and early October were extremely hot. Although the wind has pretty much ceased and the air is dry, there would be a little breeze blowing through Ingwe Pan in the evenings.This would bring some relief from the heat and cool the temperature down until sunrise.
Wild Dogs
We set off on a mission after breakfast in search of predators and were hoping to spot lions, leopards and wild dogs. It was our guests' last full day and we had already seen most of the plains game, but no predators at all.

We gave everyone a briefing and told them to look up-and-ahead while we read the ground for tracks and signs of predators. It wasn't long before we came across another vehicle that directed us to where they had seen wild dogs the previous evening.

Unfortunately, the dogs had left during the night so we made a short 360-loop on foot looking for fresh tracks to figure out where they had moved on to. We found fresh tracks to follow! They were up ahead, all lying under the shade of a Capparis bush, all the adults and literally a 'dogpile' of six pups cuddled up on top of each other. What a sighting! Everybody was over the moon, and very happy to see the wild dogs.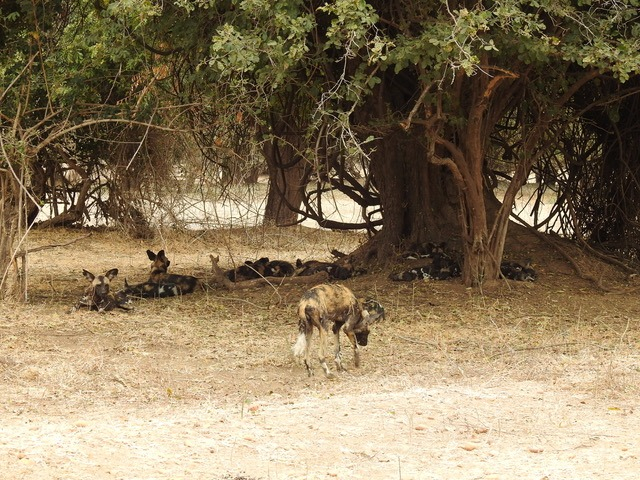 Lions
We were on our way out for a fishing day, not particularly looking for much, when we stumbled across a pride of five lions drinking at Al's pan not too far from camp. It was such a bonus and a treat to get to see them on our trip down to the river which turned out to become an excellent game drive.

Little Dom, Flo's grandson, was so excited and couldn't stop asking me questions about lions when suddenly I had to stop him because right in front of us and less than 5km from the previous pride of lions, were two huge males pretty much in the middle of the road, fast asleep! We parked right next to them and turned the vehicle off while we watched in silence.

What a classic drive! To round our day off we had some great fishing at the Zambezi River.
Lion and Buffalo Fight
On our way back to camp from a full day picnic, we were coming up over a rise behind the long pool when I noticed a lot of dust. All at once, everybody shouted, "Buffalo!"

There would be only one reason the buffalo were running in a stampede and storm of dust, and that was LION! We repositioned and turned the vehicle off, and got everybody to get their cameras ready for action. We were right in the middle of a lion and buffalo hunt!

There was a cloud of dust around us, snarling, growling, hooves galloping and lions running in-and-out of the dust and appearing through bushes all around us. Suddenly, "bheeeeer bheeer!", the groan of a buffalo. The lions had got one down!

We couldn't see where because of all the commotion, but suddenly the rest of the herd noticed the distress call, turned around and all stampeded towards the pride, scattering them like bowling pins! Their rescue mission was successful and they managed to rescue the buffalo that had been pulled down.
We were all shell shocked and full of adrenaline and excitement.

It was like being in a virtual reality documentary with the dust, growls and grunts resonating through your body while the ground vibrated with 400+ hooves scrambling for safety.

We all were absolutely blown away and left speechless. The buffalo had won the battle, settled down and moved off leaving the lions exhausted and hiding in cover under the bushes.
On that high note, we bid you a fond farewell until next time,
Siraaj Gardner & Caitlin Wetzlar
Safari Guides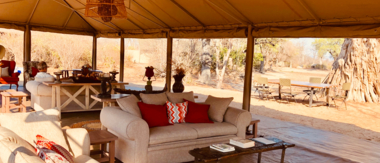 Ingwe Pan Camp nestles alongside a large secluded pan in the pristine Mana Pools National Park, which forms part of a UNESCO World Heritage Site.
Read More