The Spirit of an African Safari
Safari is the Swahili word for journey. And a safari with Machaba in Africa is a journey of such natural splendour that your world view will be changed forever.
Eco-luxury safaris that capture the spirit of an authentic African experience.
Pristine locations and unforgettable activities hosted by a team with years of experience delivering ultimate safari experiences, and an instinct for making guests feel at home while being immersed in the magical African wilderness.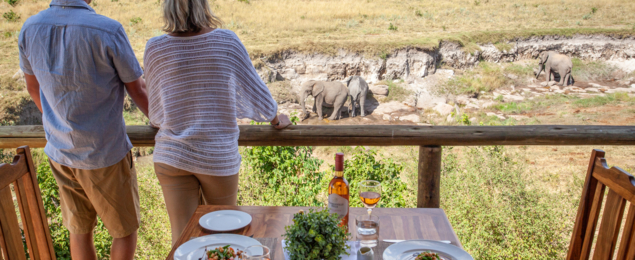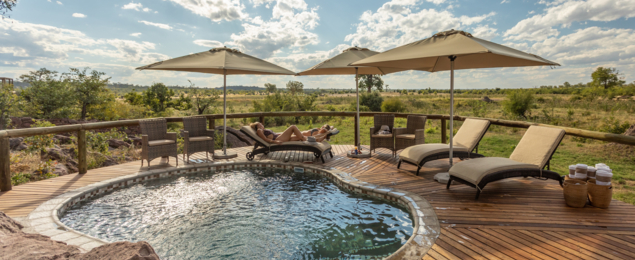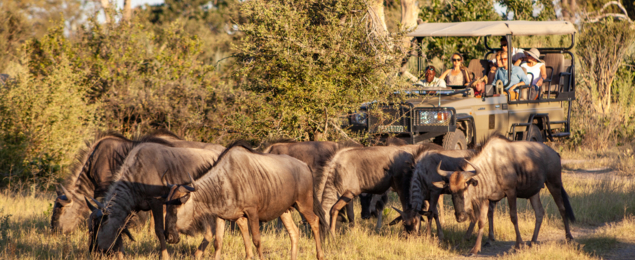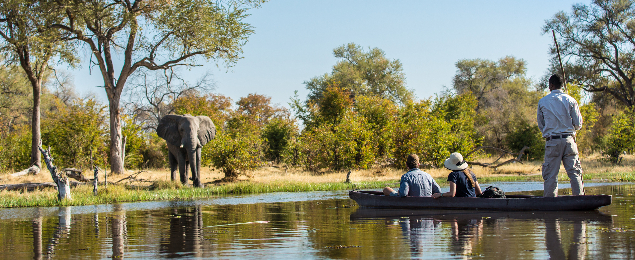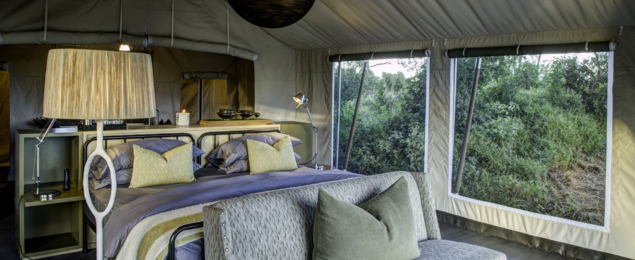 Machaba Safari Highlights
Exceptional locations, experienced members of staff and an authentic safari spirit.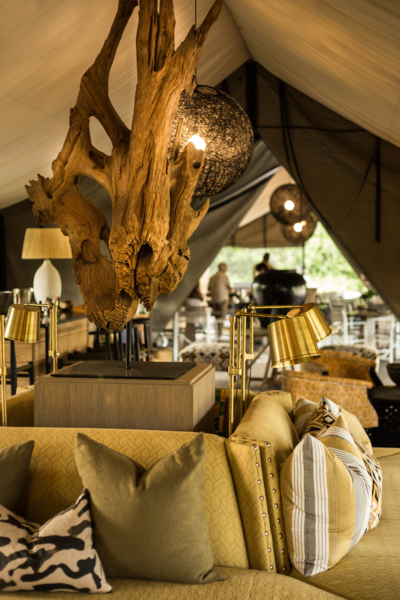 Authentic and intimate camps
Machaba embraces the true spirit of the safari where comfort is a given but where Mother Nature takes centre stage. We deliberately keep our lodges and camps small so that guests can truly absorb the rare gift of untamed, unfenced bush living.
Eco-luxury bush camp experience.
Nourishing delicious food.
Every need anticipated and catered for.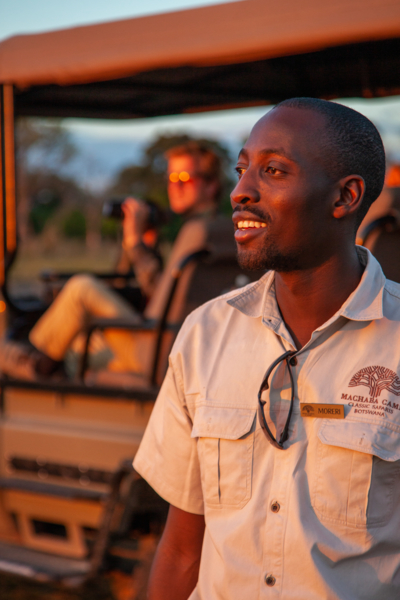 Highly experienced guides
Our guides and hosts are highly experienced in operating and guiding safaris in Botswana and Zimbabwe. For these men and women, it is an honour to showcase the beauty of Africa and share their local knowledge of the land with each and every guest.
Passionate about ethical tourism.
Guides who are responsive to your interests.
The beauty of nature. The safety of our knowledge.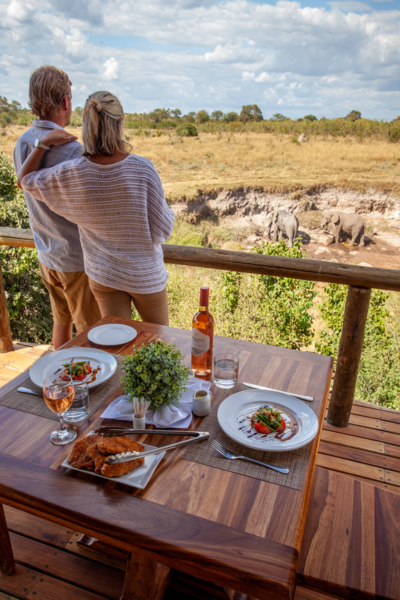 Effortless safaris, endless memories
Given our knowledge and history of operating safaris in Southern Africa, we have been able to establish camps and lodges on sites that mirror our desire to deliver authentic safari encounters. Our growing network of camps are located in safe, secluded and pristine locations that effortlessly create a lifetime of holiday memories.
A wide range of safaris in the best possible locations.
Each camp offers a variety of things to do.
Rely on our experience to plan an unforgettable safari.
Visit us at any time of the year
Botswana enjoys markedly different seasons that attract different types of wildlife, meaning that any season is an excellent season to visit us.
January - March
Okavango Delta
The Celsius ranges from 18-31 degrees and daily afternoon thundershowers mean the landscape is rich in greens and blues. The wildlife is spread out in good numbers and all migrant bird species are present.
Good predator/prey interaction.
Migrant bird species are present.
Good photographic opportunities.
Hwange National Park
Hot humid weather (up to 35 C) with afternoon thundershowers and majestic cloud systems. The wildlife is more spread out and less dependent on artificial water points (pans) making game viewing good.
Good predator/prey interaction.
Best time of year for birding at Hwange National Park.
Mana Pools National Park is closed this time of year.
April - June
Okavango Delta
The air is drier and the temperatures dip ever so slightly, ranging from 12 – 30 degrees Celsius. The wildlife is starting to concentrate on water systems. There is very good all-round viewing however most of the migrant bird species have now gone north.
Good all-round viewing.
Seasonal waters rising.
Elephant and buffalo herds prevalent.
Hwange National Park
Dry with daytime highs of 28 degrees Celsius. The wildlife is becoming dependent on artificial water points in Hwange. From May, the wildlife congregates on the flood plains of the Zambezi River in Mana Pools National park.
Wildlife starts congregating at water sources.
Good time for photography.
Most migrant birds have left.
July – September
Okavango Delta
The temperatures drop to zero degrees at night but are a warm 25 during the day. There are large wildlife concentrations around water sources and the vegetation is thinning, which makes for excellent visibility.
Cooler temperatures.
Thinner vegetation and better visibility.
Increase in water-based activities.
Hwange National Park
The coldest time of the year. Wildlife is now fully dependent on pans in Hwange and a good time to see large herds of elephant here. Animals are congregating on the Zambesi floodplains in Mana Pools.
Low water at both Mana Pools and Hwange.
Thinner vegetation means good visibility and good photography.
Good walking safari opportunities.
October – December
Okavango Delta
The hot parched land lies in anticipation of spring's first rains. Animals are drawn closer to permanent remaining water sources and the first migrant birds return. The first rains make for good wildlife viewing.
Migrant birds return.
Animals start having their young.
First rains mean good wildlife viewing.
Hwange National Park
Very hot, with the first rains in the later in the months bringing cooler temperatures, ranging from 10 – 35 degrees Celsius. With the rain comes an abundance of young making wildlife photography very good.
Predator/prey interaction good.
Low vegetation means good visibility.
Good birding as migrant birds return.
Our Popular Activities
From bird watching to taking an untamed walking safari under the care of a highly trained guide, there is always something to see and do.
Testimonials
From the plane ride in to the plane ride out every bit of this trip was magical. You are greeted by staff upon arriving back to the camp, and Elka, Vera, and Rachel were ALWAYS smiling and helpful. The food was delicious, plentiful, with a wide range of variety.
The tents are very luxurious and very well appointed. All the furniture in the lodge and tents are well chosen. The bed was large but extremely comfortable. The staff were all very friendly and effective.
Like coming home, the hospitality is excellent the food is delicious and the staff is very capable and ever so friendly. The wildlife is amazing especially the diversity and numbers.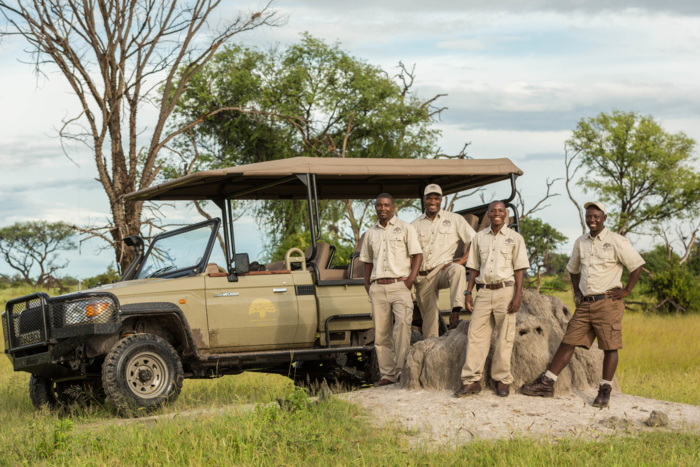 Our experienced guides
A knowledgeable and passionate guide makes for an exceptional safari.
A skilled guide reads the land to make sure that his guests see the most wildlife possible without putting their safety at risk. For the team at Machaba, being a guide is a calling that runs in the blood and is fuelled by the heart. Each is a champion of conservation, sustainability and eco-tourism. They appreciate the subtleties, complexities and the responsibilities that come with operating in - and safeguarding - these precious slices of untamed land.
Stories from the Bush
Read our blog for updates from the bush and the latest sightings from our camps.
What to expect on safari?
Being on safari takes on a natural rhythm and shape. Find out all you need to know, from what to pack and where you will sleep, to dietary requirements and travel arrangements.
Learn More