Travel and visa
Travel documents can be confusing, especially since regulations may differ from country to country. This overview will help you with the basic information you need.
Foreign currency
Zimbabwe currently uses the US dollar as its currency. Hotels and shops in most urban centres do accept credit cards (most commonly Visa and Mastercard). But local markets generally require cash, as cards and travellers' cheques are not often accepted. While you are advised to carry cash with you, do not carry large amounts. And ensure that your cash is stowed safely in a travel wallet or zip pocket.
Flying in Africa
Once you fly into Africa from an international departure point, you might require internal flights to reach your final destination. Short-distance flights to remote destinations generally make use of "bush airstrips". These accommodate scheduled and non-scheduled charter flights, with light aircraft seating between 4 and 12 people. Depending where you wish to go, helicopter transfers might also be arranged. Ground travel from airstrips takes place on 4 x 4 game vehicles.
Zimbabwe visa and passport requirements
Visas are required by most visitors to Zimbabwe. These can usually be obtained at port of entry. Citizens of the USA, UK, Canada, Australia, Israel, Japan and most EU countries receive their visas at the airport or border post upon payment of the visa fees. Citizens of other countries might need to obtain a visa prior to travelling. Be sure to check the requirements with your local travel centre in good time before you depart for Zimbabwe, as visas might take some time to process.
Botswana visa and passport requirements
No visas are required by citizens of EU countries, most Commonwealth countries, the USA, South Africa, Switzerland, Israel and Norway. However, all visitors to Botswana must be in possession of a passport that is valid until six months after initial date of travel. Visitors receive a 30-day entrance stamp upon arrival. And those travelling to Botswana's neighbouring countries (Namibia, South Africa, Zambia and Zimbabwe) can obtain visas for these countries in Gaborone.
Travel documents and travel insurance
It is important to keep photocopies of all your travel documents (passport, visas etc). These should be kept separately from the originals, in case the bag containing your original travel documents is lost. Travel insurance is highly recommended when travelling to Africa. Ensure that your insurance covers everything you might need in case of an emergency, including medical evacuation cover.
Tipping
Tipping is customary if you are satisfied with the level of service you receive. Lodge staff and guides appreciate local currency or any hard currency you may be carrying. The amount of the tip depends upon the staff member's role, and the number of people travelling in your group. Ask one of our Africa Safari Experts to guide you should you require further advice.
Turn your dreams into plans
Orange-gold sunsets, elephants swimming in the desert, the thrill of a leopard on a hunt. A safari to Africa is more than a holiday; it will change the way you think of the world for life.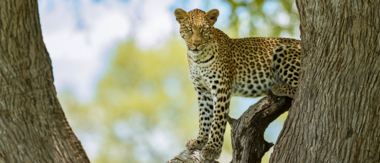 Machaba Safaris Blog
Read our blog for updates from the bush and the latest sightings from our camps.
View Blog