Gomoti Plains Camp Wildlife Sightings January 2023
Thanks to the unusually cooler temperatures that we experienced in January, we have been able to witness some incredible daytime hunting and exciting wildlife encounters. Since the usual summer rains were much lower in January, wildlife has been seen in abundance at waterholes.
Can You Feel The Love Tonight?
With the current abundance of plains game in the area, brought on by heavy rains over December, the lions have had some extra time on their hands. The males have found that this is the perfect time to start expanding the lineages. Many of the lionesses have taken to hiding or fighting them off just to get some peace and quiet from the relentless badgering.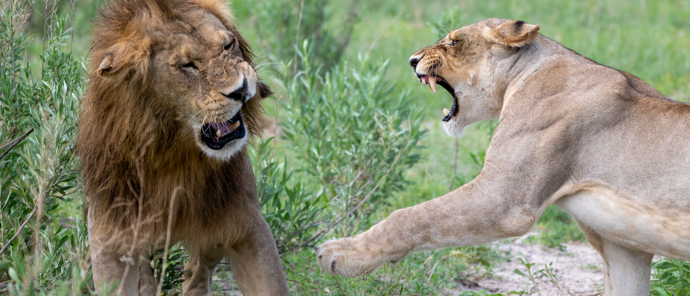 A Serval Surprise
Our guide Mott was so fortunate to come across a young serval in the midst of a hunt. He knew well enough to wait patiently, and was rewarded with a thrilling sighting of the serval catching a water snake. Serval are known to be very skittish but amazingly for the guests, this serval stayed a while and posed beautifully for some photos. This was truly a once-in-a-lifetime sighting.
The Gomoti Six Turn Six Months Old
The six little lion cubs born in the area, affectionately known as the Gomoti Six, are getting much bigger and even more playful. Under the watchful eyes of their mothers and aunts, these cubs are beginning to play and learn and are often seen on the move. Watching as they stalk each other and play hunt is a joyful sight.
Cat In A Tree
There is no sighting in Africa more iconic than that of a leopard in a tree. It always manages to take our breath away. This beautiful leopardess was spotted taking advantage of a tall tree from where she could scan her surroundings in search of her unsuspecting prey.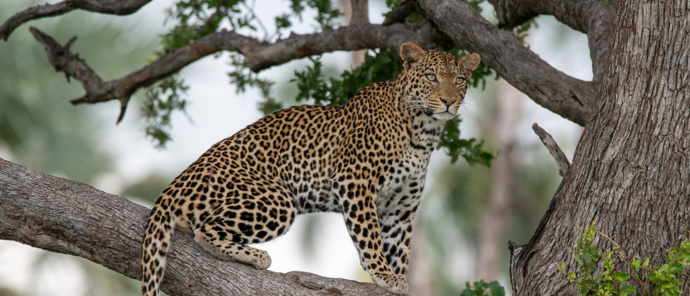 Wild Dogs Galore
January has been an incredible month for wild dog sightings. We have four different packs of wild dogs that frequent the area and have been lucky enough to spot them everyday, which always thrills our guests. The four packs total roughly 60 wild dogs, proving once again that the Gomoti area is a pristine ecosystem.
Birds Of A Feather
While out for a midnight drive to check the new roads around Gomoti, we came across a massive congregation of birds. The gathering consisted mainly of birds of prey including marabou storks and vultures. It remains a mystery as to why the birds were together there, as our late-night investigations came up empty.

If the exciting sightings we experienced in January are anything to go by, the rest of the year is sure to be one for the books!

Until next time,
Ponche
Camp Manager