Gomoti Plains Wildlife Sightings February 2023
As the rain continues to drench the earth, the bush is teeming with activity and has provided some excellent sightings and a few surprises.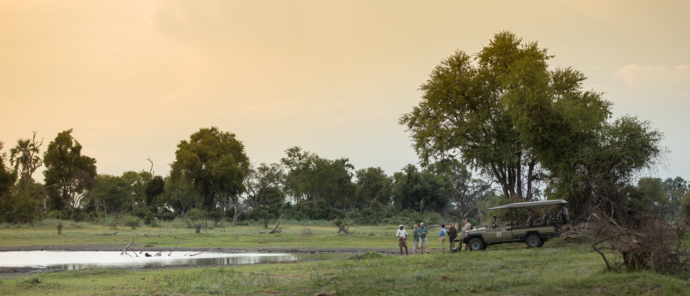 Following The Call
Having spent many years in the African wilderness, our guides are fluent in the language of the bush. Even the slightest change in the wind might tip them off to a potential sighting.

As a lion's roar drifts on the wind, the purpose of our game drive shifted gear. Following the call, we found two lionesses on a warthog kill. We watched them for a few minutes before 12 cubs emerged from the safety of the thicket and joined the feast.

Not long after that a dominant male arrived and the females scattered to make way for the King. A few of the more confident cubs stayed behind and the old male allowed them to practice their dominance, and eat while he took the lion's share.
The Regulars
A male lion affectionately called Survivor and two pregnant females, who happen to be sisters, have been sighted around camp recently. We believe Survivor's mother has either wandered further afield to mate or succumbed to the harsh reality of the bush. We will keep looking for her until her death is confirmed.

In the meantime, Survivor and his two females are interesting spectators as our Gomti Soccer team practices close to camp.
Uncommon Occurrence
It is well known that each game drive is different and that we cannot guarantee any sighting. However, with some of Africa's largest populations of elephants, it is somewhat unusual not to see these gentle giants during a stay at Gomoti.

After a few days of no elephant sightings, our guests were starting to think all the elephants had disappeared, however, Gomoti never disappoints. After some amazing rain, we ventured out for a game drive and came across a happy herd swimming and playing in a waterhole the rainfall had created overnight.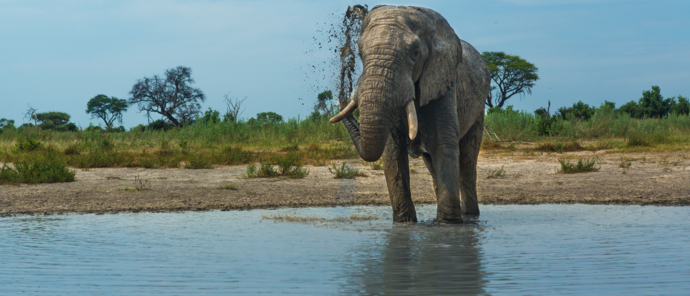 Sprinters of the bush
We may not have seen too many elephants, but our cheetah sightings were abundant! The spotted sprinters were seen in a number of different sightings.

A mother and her three cubs, a coalition of two brothers and a solitary male all were spotted within 1 km (0.6 miles) from camp.
Ready for their Close-Ups
Gomoti was honoured to have the world-renowned photographer, Solly Levi, in camp.

A true genius behind the lens, Solly captures the beauty of the wild so perfectly. Our Vogue cover model this month was a leopard in a tree. He yawned, stretched and posed for the camera. The best kind of model.

The wild is full of surprises and we love uncovering them on our daily game drives, walks and expeditions into the Okavango. We cannot wait to see what's in store next month.

Until next time,
Ponche,
Camp Manager