Walking safaris
Nothing heightens the senses like walking through the African bushveld amongst nature's untamed creatures. Every sound is amplified, every movement is magnified and the sheer size of large animals is put into perspective when on foot. A walking safari provides an opportunity to experience the finer details of life in the bush – both big and small.
Testimonials
Our guide Chris (and David, who led us on a bush walk) was immensely knowledgable, and his (and the rest of the team's) passion for wildlife was infectious.
Our sightings were brilliant and the bush walks very exciting. We saw Lion on one bush walk and sat and watched Elephant close up on another bush walk.
Our guide Shaun was the absolute best - aside from game drives, he also took us on a bush walk (bit nervewracking!) and suggested a mokoro trip which was wonderful.
Piece together nature's many stories
Learn basic tracking skills
Rekindle your human instincts of how to track and read the signs of the bush. With your guide's help, you will see your surroundings in a completely different and unforgettable light. Every scent, marking or sound is a clue.
A wildlife experience at its most intimate.
Incredible views and photographic opportunities.
Get up close and personal with nature and wildlife.
Learn tracking and other skills of surviving in the bush.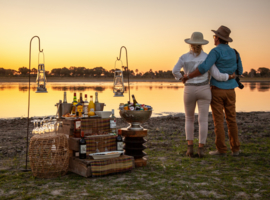 From Management
A walk in the wild will heighten your senses and allow you to experience the finer details of life in the bush
Learn more about Walking Safaris
Safety on a walking safari
Before setting off, your guide will give you a briefing so that you are familiar with the rules and safety instructions. He will outline typical animal behaviour and how to handle any dangerous encounters should they arise. Although your guide will be armed for your safety, it's important to remember that you in a wild environment and following your guide's instructions is key.
See life in minute detail
A walking safari is a perfect way to immerse yourself in a fascinating world of plants, seeds, insects, reptiles and small animals. You can see spoor prints and droppings or feel the polished surface of a 'rubbing-post' where animals have come after a mud bath. These facets of a walking safari piece together a holistic picture of the ecology in a specific area.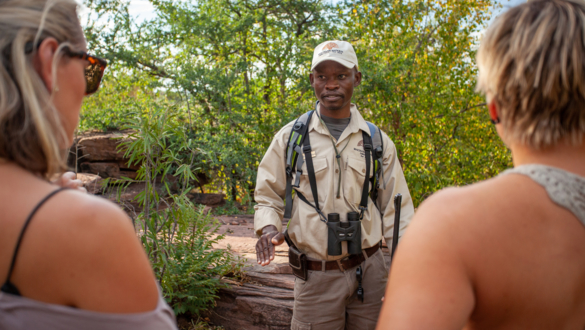 What to wear and pack for a walking safari
Dress in khakis or olive greens to blend in with the environment. The African sun is ruthless and a natural fabric like cotton offers breathability, comfort, absorbs moisture well, is not prone to odours and is strong enough to withstand the odd thorn. A brimmed hat is essential as is a daypack containing a high SPF sunscreen, camera, binoculars and water bottle.
Learn more about the bush
Our expert guides will show you how a pile of old bones or a seed pod can provide insight into the evolutionary adaptation of animals, insects and plants. They will also teach you how to read animal tracks, identify a species by its scent and piece together clues to work out what occurred in an area in the preceding hours or even days.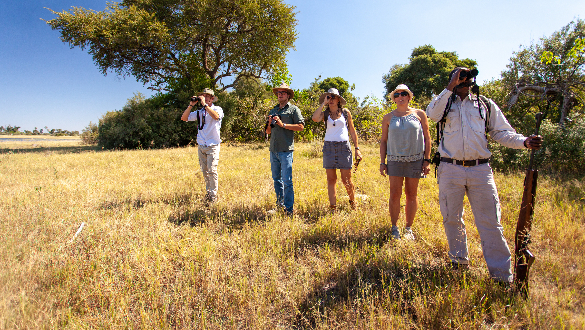 Our Popular Activities
From bird watching to taking an untamed walking safari under the care of a highly trained guide, there is always something to see and do.