Bird watching
Bird lovers are spoilt for choice when it comes to birdwatching in southern Africa. The region's wealth of varied habitats – including watering holes, forests, flood plains, mud pans and wetlands – attract a vast range resident and migratory species.
Testimonials
Our professional guide, Albert was exemplary in all aspects of the wilderness, every game drive was unique and we saw a wide variety of species of birds and animals in large numbers.
Saw not to be beaten sightings of lion, leopard, wild dogs, elephant, amazing bird life and much much more. Can't recommend Machaba highly enough - intend to be back sometime!
Great view of many birds of prey, a Pell's fishing own and a grey collared Kingfisher.
Always something to see
A safe haven for birds
From the waders of the Okavango Delta to the raptors in Hwange National Park, bird lovers can see hundreds of different species thanks to stringent protection laws. New to the hobby or a seasoned twitcher, specialist Machaba Safaris guides are on hand to conduct private tours.
Over 500 species recorded in the Okavango Delta.
Excellent visibility on vast open floodplains.
Migrant birds arrive from October to March.
Hwange National Park is home to the world's largest flying birds.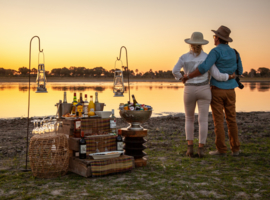 From Management
With a diversity of habitats which attract a wide variety of species, the Okavango Delta is a birder's paradise
A wide variety of feathered species
Diversity and abundance
From great flocks of flamingos, Southern Crowned Cranes and giant raptors, to ground hornbills and Mocking Cliff Chats, and elusive African Crakes and Pel's Fishing Owls – Machaba Safaris has camps and lodges in some of the region's prime birding hotspots.
The art of bird spotting on safari
Although our guides are expert bird twitchers who can help you with your must-see list, you can improve your chances of a successful outing by investing in a good pair of binoculars and researching which species to look for. Silence is also a birder's best friend and we recommend taking a guided bird walk or exploring the watery regions in a mokoro canoe.
The feathery "big 6"
When it comes to birding, southern Africa sports its Big 6 to spot, namely: the Lappet-faced Vulture, Saddle-billed Stork, Ground Hornbill, Martial Eagle, Kori Bustard and the most difficult of all – the nocturnal Pel's Fishing Owl.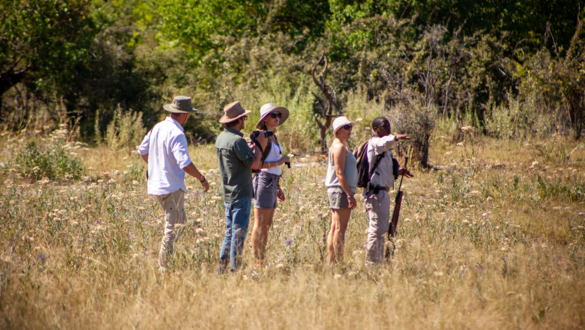 Best time of year to go birding
The good climate and varied terrain mean that any season is a good time to visit southern Africa. In dry months, large flocks of birds gather around permanent water sources to feast on trapped fish and crustaceans. While summer months (November to March) see migrant species return. In prime birding areas, birders have recorded over 300 species in three to four days.
Refuge for Rare Birds
The Okavango Delta, in particular, provides shelter to many threatened and endangered species. It also has the largest population of Wattled Cranes and the Slaty Egrets in Africa (if not the world). Other notable avian species include the White-Backed Night Heron, Pel's Fishing-Owl and the African Skimmer. Botswana also has the most renowned Greater Flamingo and Lesser Flamingo breeding sites in southern Africa.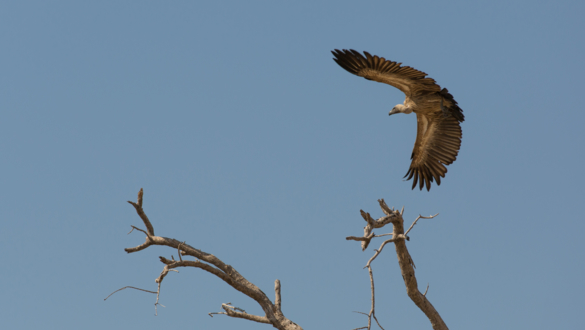 Our Popular Activities
From bird watching to taking an untamed walking safari under the care of a highly trained guide, there is always something to see and do.