Game Drives
The word "safari" conjures up images of open-air vehicles, vast open plains and herds of great animals. A game drive is an iconic way in which to take a safari and get in touch with the wilds.
Testimonials
The highlight of our stay was chasing a pack of 16 wild dogs at sunset. An unforgettable memory and a dream that has come true. We can recommend without hesitation this camp to anyone who is looking for an exclusive experience of the Okavango Delta.
If it lives in the delta, Shaun will find it. It's amazing how he knows the animals and their habits. One day he said "we'll come back this afternoon as I think the wild dogs will cross the river here with their puppies" ... sure enough, they did!! He even incorporates a night drive at the end of the afternoon run
The staff are extremely hospitable, the food is INCREDIBLE, and the game drives...you just can't get that kind of experience anywhere.
Game drive highlights
See animals in their natural habitat
Our rangers agree – no two drives are ever the same. Each outing is ripe with potential. Sometimes it will be a pack of African wild dogs trotting on the hunt and at others, it may be a lioness drinking at a waterhole with her cubs. It's nature's version of the lotto.
Get into the animal's environment and see how they live.
Our highly trained guides and hosts will open your eyes and your mind.
Uncover the fine balance between animals, their environment and conservation.
Witness the drama and majesty of predators and prey.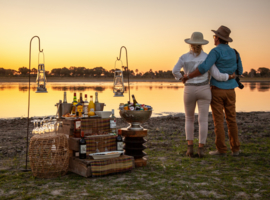 From Management
Enjoy open-air vehicles, vast open plains and herds of great animals
Learn more about Game Drives
Early to rise and early to bed
Game viewing is at its best around dawn and dusk. On a typical day, the first game vehicle leaves camp before the sun is up and the second drive heads out into the wilds in the late afternoon. Use the downtime in between drives to relax in the pool, or have a nap before heading out again. The blazing orange and red beauty of an African sunrise or sunset is something one never forgets.
Respect for the wild
Safety is always a priority when out on a game drive. At times your guide may ask you to remain quiet, calm, stay seated and keep your limbs inside the vehicle. It is also important to resist the urge to reach out and touch a curious creature that has approached the party for a closer look.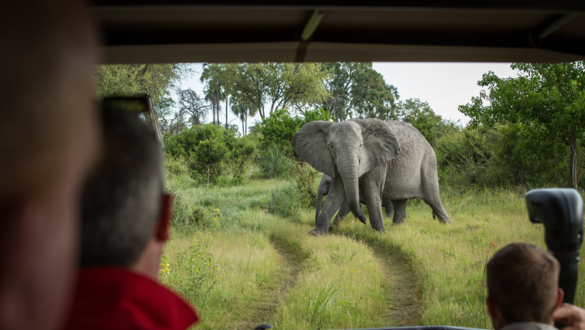 Beverages and snacks
It's surprising how fresh air and adrenalin can really work up an appetite. All of our morning game drives include a tea/coffee break with nibbles and evening drives break for sundowners and snacks. If however, your ranger is on the trail of a something exciting, he may encourage you to skip the break to track down a rare game-viewing experience instead.
Answering the call of nature
A typical game drive is 3 hours or longer, so we recommend that you use the bathroom before you leave. If you do need to answer nature's call when out on a drive, your guide will show you to the lava – tree (lavatory).
Our Popular Activities
From bird watching to taking an untamed walking safari under the care of a highly trained guide, there is always something to see and do.