Welcome inside
Mana River Camp
Mana River Camp's luxury tents are perfectly positioned overlooking the mighty Zambezi River and offer a comfortable, homely and authentic safari experience. The tents are surrounded by tall mahogany trees and iconic acacia trees that frame the Zambezi and attract an abundance of wildlife to the area. Each tent has an en suite bathroom with a shower and a canvas veranda on which to relax and listen to the gentle rumbling of the river on your doorstep.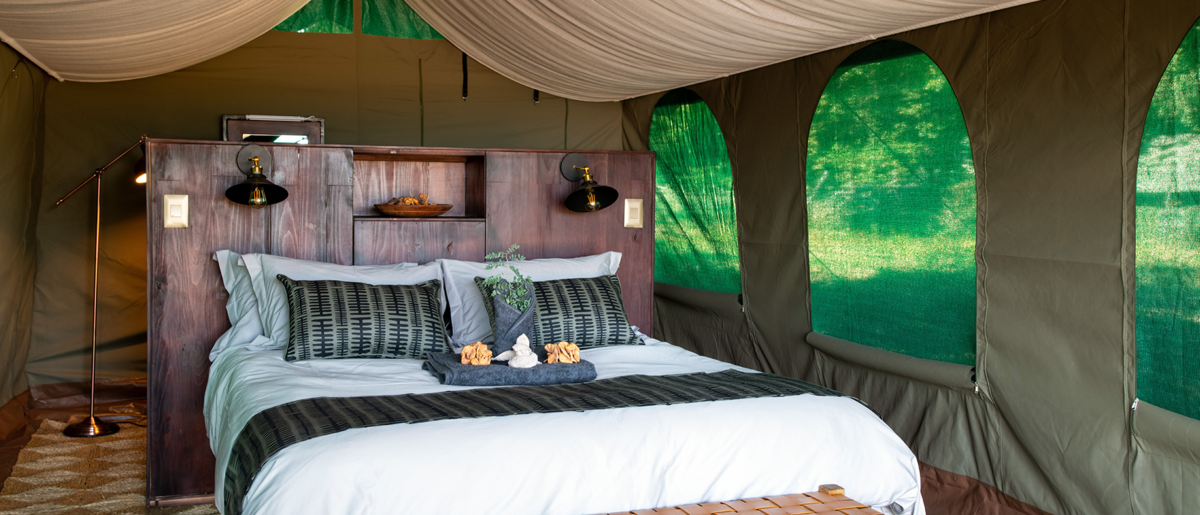 Luxury double safari tents
Our luxury safari tents feature a double bed that can be separated into twin beds as well as a modern en suite bathroom.
Contemporary en suite bathrooms
Each of our safari tents features a large en suite bathroom, complete with hot and cold water shower, heated with chip boilers, western toilets as well as locally sourced bath products.

Watch the wildlife pass your tent
The private patio area in front of your tent provides the perfect viewing spot from which to watch the African bush unfold in front of you.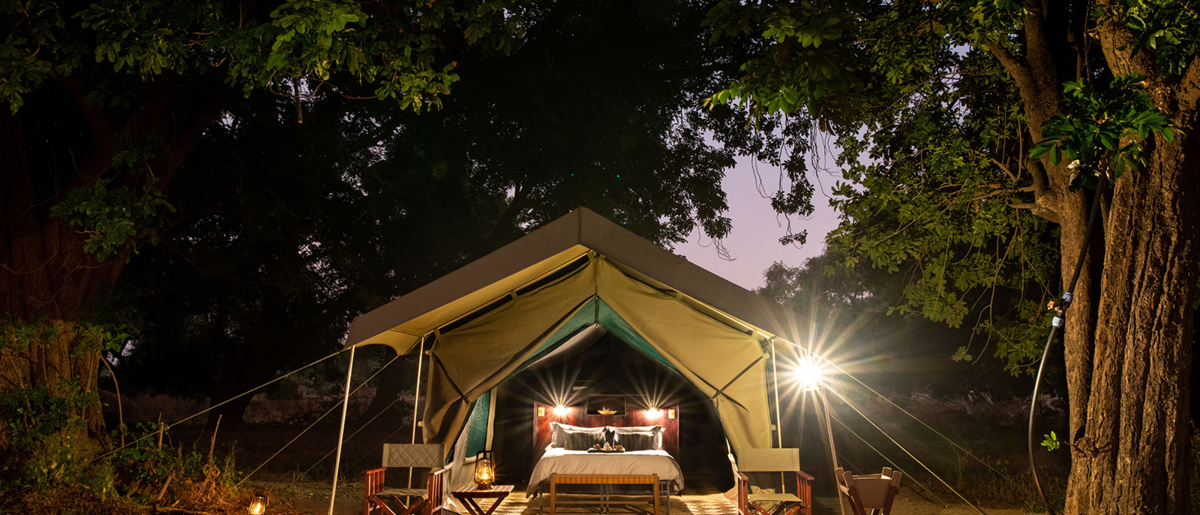 An authentic safari experience
The safari tents offer an untamed African experience with all the contemporary comforts. Enjoy the sights and sounds of nature from your tent which includes electric lamps, leather seating, a folding table and a hot beverage station.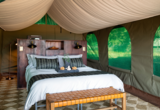 Luxury double safari tents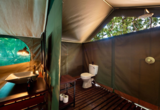 Contemporary en suite bathrooms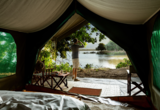 Watch the wildlife pass your tent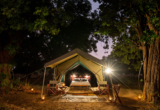 An authentic safari experience
Rooms Information
| | Double room |
| --- | --- |
| Room size | 18m2 |
| Beds | 1 Double bed or 2 Twin beds |
| Occupancy | 2 Adults |
| Bathrooms | En-suite with shower |
See our rooms
Home comforts in the heart of the bush
Each tent includes a full en suite bathroom with hot and cold running water, modern shower and western toilet.
Our room design philosophy
A pleasing balance between style, comfort and environment
We design each room to maximise privacy and optimise views of the land and we take our decor inspiration from a traditional African safari in terms of the fabrics, texture and hues that we use. We pair this feeling of opulence with consideration for the environment, which is why we don't have any permanent structural fixtures and rely on solar energy, forgoing energy-heavy appliances such as shavers, air-conditioning and hairdryers.
Electric lights
Western flushing toilet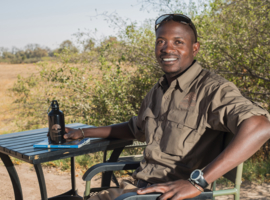 From The Team
We aim to be environmentally low touch and aspire to achieve a delicate balance between comfort and environmental impact
Essentials and Amenities
Our rooms have all the comforts you need without compromising on the feeling of an authentic African safari feeling.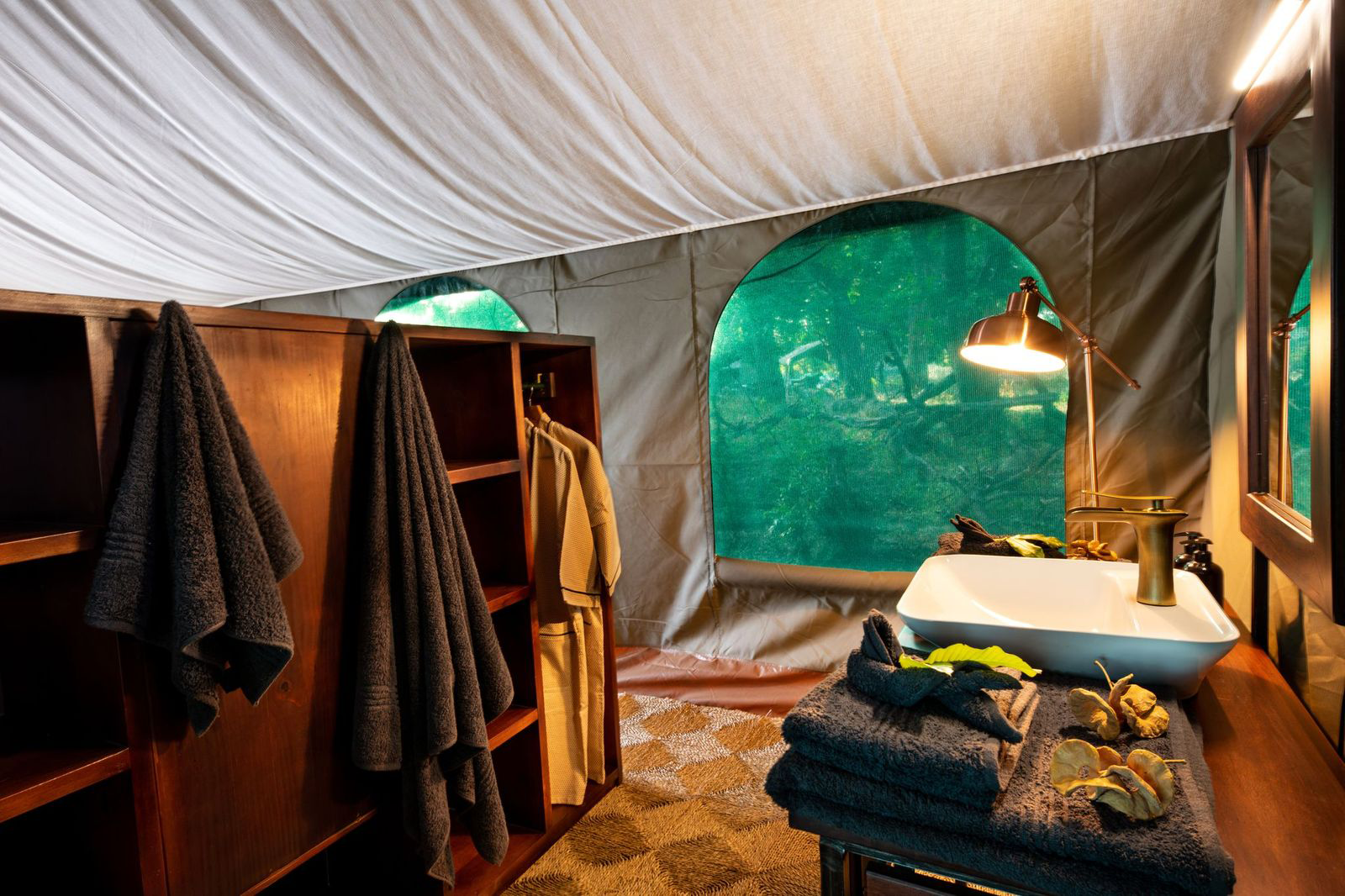 Full en suite bathrooms
The en suite luxury bathrooms have hot and cold running water and western-style flush toilets, enabling you to refresh, relax and reflect on another exciting day in nature.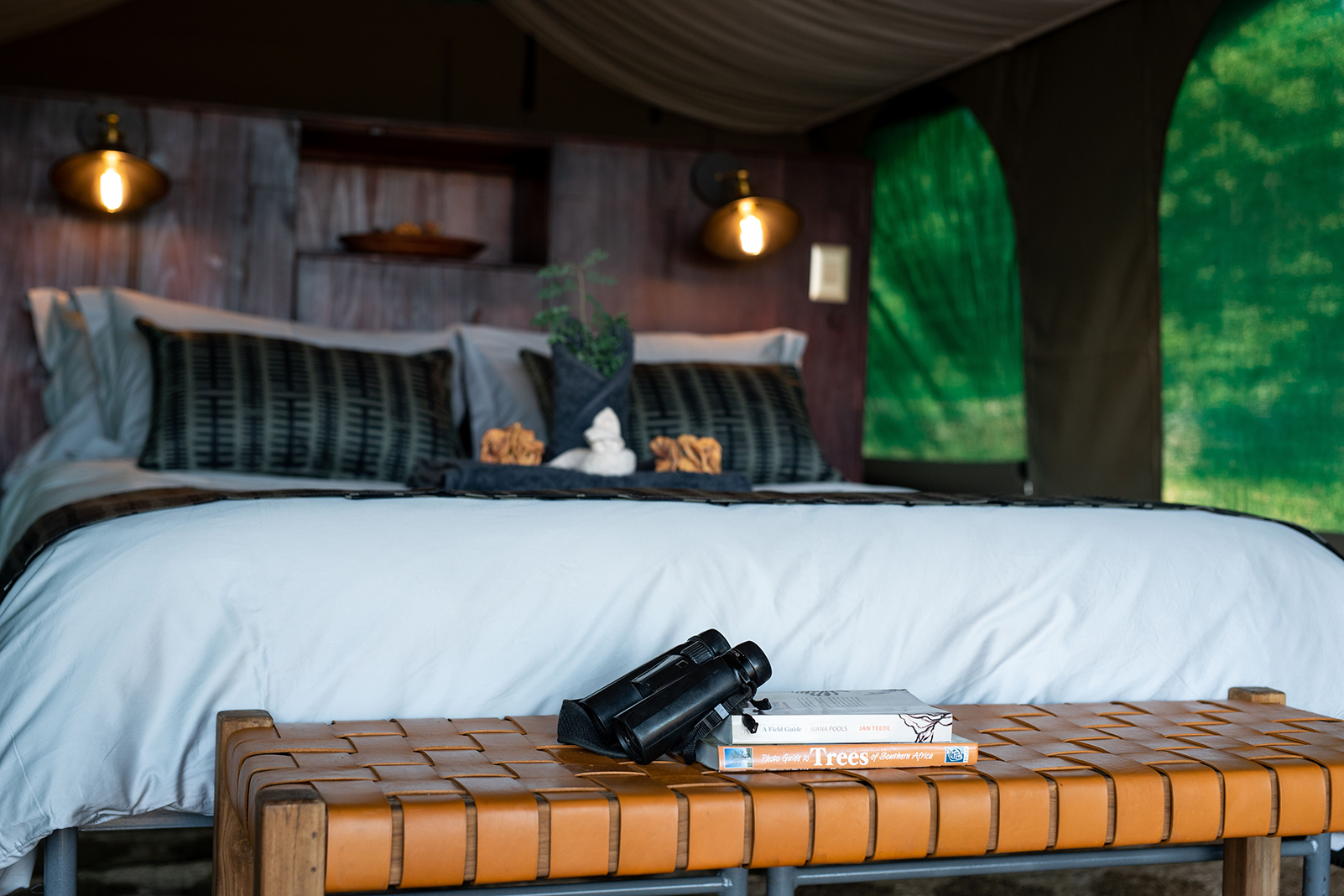 Finest linen and bedding
Superior quality mattresses are dressed in natural fabrics and the finest of coverings. Sleeping in the wilds has never been so indulgent.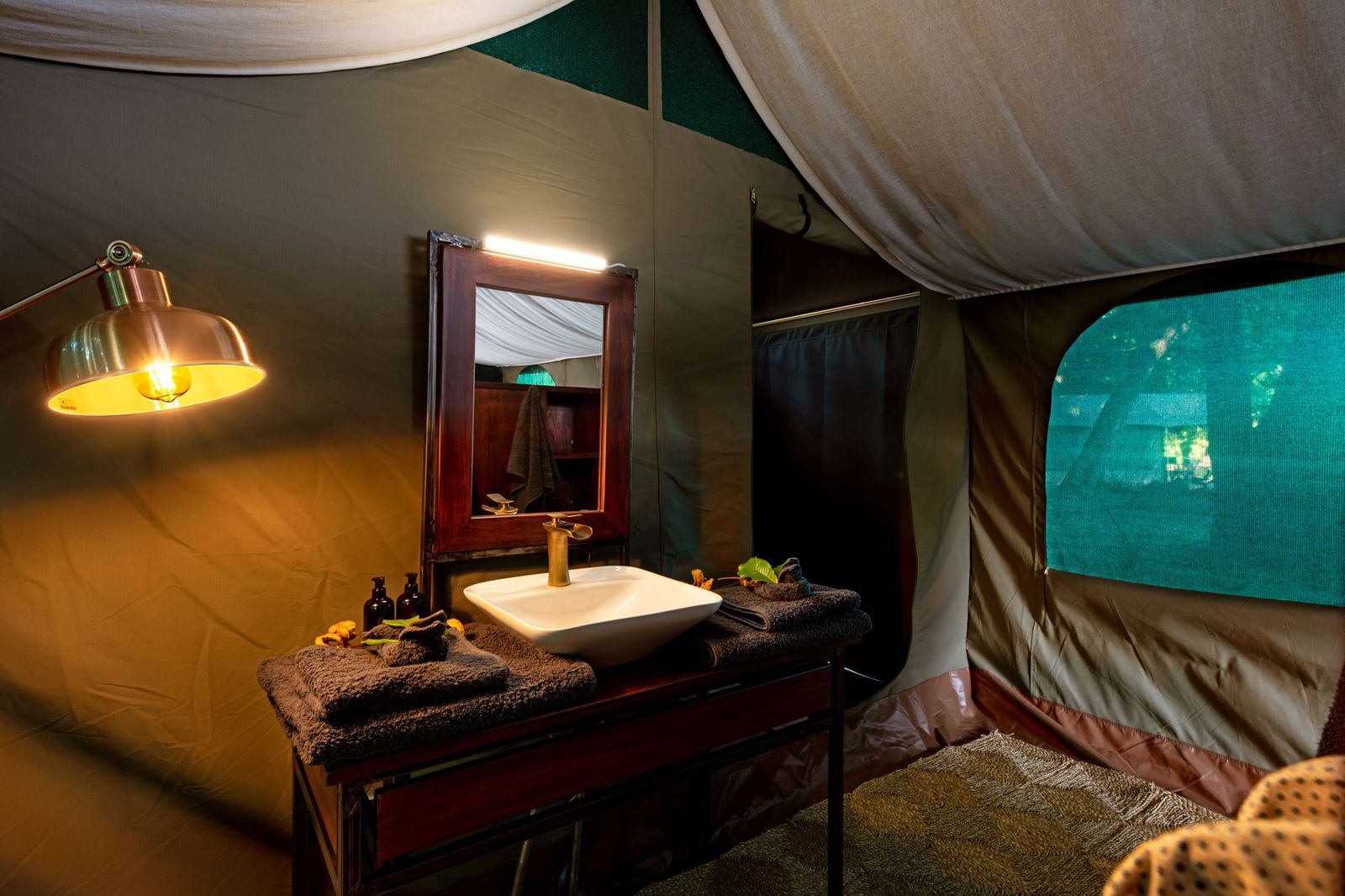 Sumptuous towels and decadent bath products
Taking a shower after a day of adventure in the wilds reminds one of the simple pleasures in life. We supply locally produced bath products made from organic herbs and absorbent comforting towels.
Testimonials
From the plane ride in to the plane ride out every bit of this trip was magical. You are greeted by staff upon arriving back to the camp, and Elka, Vera, and Rachel were ALWAYS smiling and helpful. The food was delicious, plentiful, with a wide range of variety.
The tents are very luxurious and very well appointed. All the furniture in the lodge and tents are well chosen. The bed was large but extremely comfortable. The staff were all very friendly and effective.
Like coming home, the hospitality is excellent the food is delicious and the staff is very capable and ever so friendly. The wildlife is amazing especially the diversity and numbers.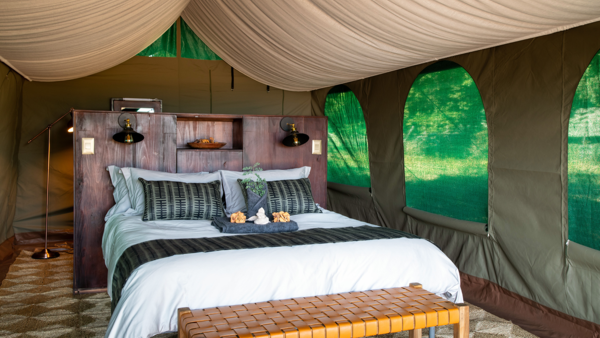 Staying in a luxury safari tent
Staying in a safari tent immerses you into the wilds without compromising on the comfort and safety of a luxury room. Your ears will tune into the light rustlings of leaves or the distant roar of the mighty king of the veld. The wind gently catches and snaps the canvas and the air is alive with scented bushveld air. Being this close to nature evokes feelings of oneness and belonging. Africa is the birthplace of humankind, and a visit to Machaba Safaris feels like coming home.