Sightings June 2019
There is no end to the breathtaking special moments at Deteema, from the lions to the elephants. Each day keeps you on your toes and eagerly waiting for the next dose of "Deteema Geographic's Live."

There is no better way to end the day than with the goosebumps raising sound of the lion roar, in the case of Deteema make that the sound of 22 lions sending you off to bed, no orchestra comes close to giving us that kind of symphony. It's the lion cubs that quickly steal your heart and breath, watching them get up to mischief when the rest of the pride goes hunting, leaving them to reign supreme over each other. Despite some unfortunate injuries due to a run in with buffaloes these cubs have persevered and are slowly on the mend.

Let's not forget our very own favorite gentle giants, to walk into the springs and be up close and personal with them is a surreal experience, to observe the bulls as they drink and let you get up close and personal is the most amazing experience Deteema will gift you with.

We have been fortunate enough to get to see the herd of one of the most amazing and rare antelope, the Roan. Beautiful, majestic and regal are just but three words you can use to describe these amazing animals. While they are known to be shy, we have managed to spend amazing moments with them during our foray into the great wilderness of Hwange National Park.

Not forgetting the herds of buffalo, impala, the hippos, crocodiles and so much more. More to come next month from the Deteema team. See you there!!!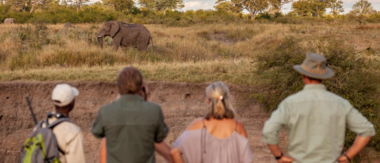 What to expect on Safari
An unknown experience can be both exciting and daunting, we have unpacked some of the practical aspects of going on safari.

What to Expect