Sightings September 2019

Some call it September, some the month of Spring!

No matter the name, it was a very productive month from a wildlife point of view for our guests and guides at Ngoma Safari Lodge. The first day of spring is called the vernal equinox. spring fever isn't just a saying – experts say the body's makeup changes due to different diets, hormone production and temperature, quite easy to see in the wildlife with all the pregnant impala about and the resident troops of baboons giving birth to their infants.

The lions have provided some amazing viewing again in the month of September.

Not a single guest visited Ngoma Safari Lodge and left without seeing a lion! The resident pride was seen on numerous kills too, on one particular occasion they even hunted and brought an elephant down. With the river being at its lowest right now, we are even being treated to lions swimming across the main channel. There is a new, unknown young male lion that was seen a few times. He is a little skittish, this being since he is in deep water being in unfamiliar territory.

Elephants, elephants and elephants everywhere! Not a day went by in September without at least one guest mentioning how many elephants they saw on the boat or on a game drive. The river is at its deepest around Sedudu island and the water, as well as the island, are huge drawcards for large herds of elephants. It is quite normal to see elephants, young and old, swimming across the main channel to feed on the grass on Sedudu island. There also seems to be lots of new elephant calves being born at a similar time. It's always a pleasure to sit and observe the little elephants as they learn to use their trunks and must run to keep up with their older cousins and siblings.

A rather large herd of buffalo has been frequenting our water hole in front of the lodge. We estimate that the herd must be at least one thousand strong. In the month of August, the herd was more than double in size. Often the reason for large herds of any grazing animals to split up is because of competition for food and water. Almost every cow has a calf in tow too, the sight of so many of these powerful animals together, on the move is incredible. If any animal en masse can create a dust cloud, its a herd of one thousand cape buffalo! A large herd of buffalo can also be a friendly invitation for a hungry pride of lions.
A crocodile has long been a fascination for mankind. A creature that has been around since the dinosaur era is bound to draw some form of interest. A very large crocodile was captured on camera with a kill on the banks of Sedudu island. It hung around just long enough for a photo or two before retreating to the depths of the Chobe River. It really is lucky to witness a crocodile with a fresh kill; they don't feed every day.

An animal that is at the top of every safari-goers list is a giraffe. They are tall, they are majestic, they are beautiful, and they are just incredible to see in a herd. An older bull visits our water hole at the lodge almost daily. He is, as all giraffe are, rather inquisitive and often stops and stares at anything that moves.

A few interesting facts about giraffe:

● The correct collective noun for a herd of giraffe is in fact a 'journey' when on the move, and a 'tower' when at a standstill
● A giraffe is born at nearly six feet tall and weighs in at a hefty 45 to 68 kilograms or 100 to 150 pounds
● A giraffe running at its fastest can reach a speed of 60 kilometres per hour or 37 miles per hour
● A giraffe only sleeps for 4 to 5 hours a day

Until next time

Ngoma Safari Lodge Team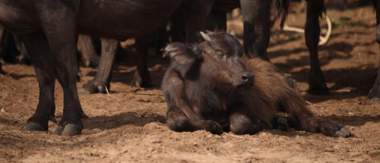 What to expect on Safari
An unknown experience can be both exciting and daunting, we have unpacked some of the practical aspects of going on safari.
What to Expect